News story
Magnox hosts event for £170m collaborative procurement
Other government departments attended this event to look at joining NDA's £170m shared procurement framework to save money for the tax-payer.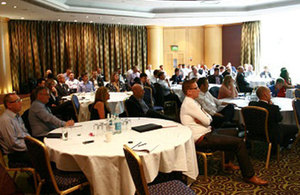 The NDA's Shared Services Alliance (SSA) has secured at least £195 million savings in the last 5 years. It was established in 2010 as a joint buying group to deliver maximum value for the taxpayer from large-scale contracts. Members include:
NDA (and its subsidiaries)
all Site Licence Companies (SLCs)
National Nuclear Laboratory (NNL)
Springfields
The recent event in Birmingham was to test market interest in a £170million health physics contract for the NDA estate. It was attended by a number of government departments and organisations, who are interested in joining the collaboration to secure value for their own health physics requirements.
Health physics is the science of radiation protection, focused on controlling and monitoring health hazards across traditional nuclear clients. These include the Ministry of Defence (MOD), as well as other less obvious government clients including the Environment Agency and the Home Office. Health physics enables the safe use of ionizing radiation. In doing so, it protects the environment and individuals who work on sites as well as local communities.
The event was hosted by Magnox Ltd and brought together a range of supply chain partners and SSA representatives. Magnox Ltd outlined the requirements of NDA estate and wider government for a health physics services commercial framework. The framework will include: •health physics resourcing and advice •instrumentation calibration and dosimetry services
These services will be used by NDA SLCs, including Magnox, Dounreay Site Restoration Ltd and Low Level Waste Repository Ltd.
Ron Gorham, Head of NDA Supply Chain and Small Medium Enterprises Champion, said:
"This workshop was key to shaping the procurement for health physics services across the NDA estate and wider Government. We want to engage early with our supply chain partners, working with them to ensure we get the best possible outcome from this important framework, while ensuring we meet our commitments to SMEs and our socio-economic responsibilities around our sites."
The workshop is one of the first parts of the procurement process and aims to engage with supply chain partners, allowing them the chance to meet with the SSA to understand the service requirements, but also to feedback any information they have which could help make the tender more comprehensive, efficient and cost effective.
Allan May, Aurora Rad Protection Services, said:
The workshop has provided a great overview of all the NDA Site Licence Companies and their requirements. It was good to see how all 17 sites being discussed have worked together to understand their health physics service requirements and develop a best solution to provision of these moving forward.
Steve Watson, Magnox Category Manager, added:
The continued supply of Health Physics Services is essential to Magnox in delivering its decommissioning mission. We want to ensure this 6-year arrangement will deliver the best services at the right time to support the decommissioning of all 12 Magnox sites and the wider NDA estate.
Published 13 July 2015