Press release
M5 Oldbury viaduct repair project approaches key milestone
Work on the M5 Oldbury viaduct is set to reach a key milestone following the completion of more than 5,000 repairs to the structure.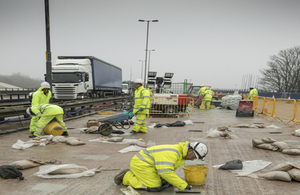 The project involves concrete repairs and waterproofing along a two-mile section of the ageing viaduct in the West Midlands.
Work on the southbound carriageway, between junctions 1 and 2, is approaching completion and in the coming weeks the entire operation, involving more than 500 workers, transfers to the northbound carriageway.
Already more than 5,000 separate repairs have been carried out on the southbound carriageway, 3,500 more than anticipated.
The majority of work is scheduled to continue until autumn 2018, with other work continuing into spring 2019.
Highways England senior project manager, Zbigniew Twarowski, said:
The scale of this project is vast and has involved a large number of repairs.

On top of that we've had one of the harshest winters in years, which has added to the challenges.

We will not know the full extent of the repairs needed on the northbound carriageway until work there is under way.

We appreciate the level of disruption this project involves and I'd like to thank motorists, businesses and residents for their patience. Meanwhile, our teams are working as hard as they can to get the job done.
At more than £100 million, M5 Oldbury is believed to be the largest concrete repair project, by value, ever carried out in Britain.
Much of the work takes place underneath the viaduct and so workers cannot always be seen on the surface itself.
To keep the motorway open, a contraflow system is in place with traffic currently using the northbound carriageway with two lanes operating in each direction, along with a 30mph speed limit. Traffic is anticipated to move to the southbound carriageway in June.
Slip roads at junctions 1 and 2 are being kept open to ease effects on the local network.
However, as part of the work, a number of closures of the southbound off-slip at junction 2 are planned, for more information check the Highways England Roadworks Finder.
General enquiries
Members of the public should contact the Highways England customer contact centre on 0300 123 5000.
Media enquiries
Journalists should contact the Highways England press office on 0844 693 1448 and use the menu to speak to the most appropriate press officer.
Published 10 May 2018