Press release
Work to improve traffic flow at M5 junction 4 starts mid- February
Work to improve a busy junction on the M5 near Birmingham starts next weekend.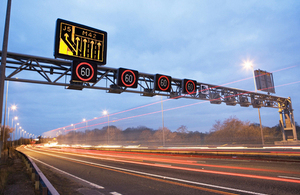 The £11 million scheme will involve widening the roundabout at junction 4 – Lydiate Ash, near Bromsgrove.
The closure will be from 10.30pm Friday February 13 until 6am Monday February 16 to allow access for a mobile crane used for the installation of two concrete bridge beams over the motorway.
Traffic will be diverted in both directions, leaving the M5 at the exit slip road, travelling over the island and back onto the M5 via the entry slip on the other side. Traffic using the motorway will be advised of potential delays through the use of roadside messaging signs.
It is being carried out as part of the government's £317 million pinch point programme, which aims to boost local economies by reducing congestion and delays at key locations as part of the UK government's growth initiative. The programme was announced during the Chancellor's Autumn Statement in November 2011.
Highways Agency Project Sponsor, Debbie Makinde said:
We've planned the work very carefully to create as little disruption as possible. The diversion in place is very short and this shouldn't inconvenience drivers too much. Drivers should still plan their journeys however, allowing extra time if necessary, while we complete this phase of works.

The installation of the bridge sections across the centre piers are being put in place so the island above the motorway can be increased from 3 lanes to 4 to help ease congestion.
An identical closure will apply the following weekend (February 20 – February 22) should construction work need to be cancelled due to adverse weather conditions.
Further information about the project is available on the scheme website.
Published 4 February 2015