News story
Lysblink Seaways accident investigation report published
Grounding of general cargo vessel Lysblink Seaways near Kilchoan, Ardnamurchan peninsula, West Scotland on 18 February 2015.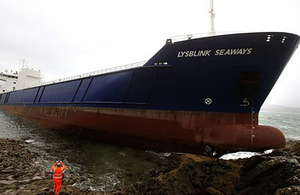 The report into MAIB's investigation of the grounding of cargo vessel Lysblink Seaways, is now published. The vessel ran aground at full speed and remained on the rocky foreshore near Kilchoan for almost 2 days during adverse weather. This resulted in material damage to its hull and the double bottom was breached, including some fuel tanks, resulting in 25 tonnes of marine gas oil entering the water. After the salvage the vessel was declared a constructive total loss and scrapped.
The report contains details of what happened and actions taken. Read more.
Press enquiries
Press enquiries during office hours 01932 440015
Press enquiries out of hours 020 7944 4292
Published 19 November 2015