World news story
#LuxUKLinks exhibition touring Luxembourg
Ambassador John Marshall´s social media project about the strong ties between UK and Luxembourg has been transformed into a touring exhibition.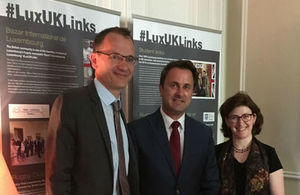 The exhibition, consisting of 23 banners, looks at links between Luxembourg and the United Kingdom. After a preview at the Ambassador's Residence it will be seen in schools, museums and communes across Luxembourg over the next year before travelling to the University of Sheffield in May 2018.
It started as a series of tweets by Ambassador John Marshall about the links between Luxembourg and the UK using the hashtag #LuxUKLinks. Many were about the historical ties but soon highlighted economic, cultural and community links between the two countries and the momentous events and extraordinary individuals who have brought the two countries together over the centuries.
The exhibition can be seen on the following dates:
| | |
| --- | --- |
| 30 Jun - 5 Jul | Walferdange Town Hall |
| 10 - 18 Jul | Ville de Luxembourg |
| 22 - 29 Sept | Hesperange |
| 4 - 11 Oct | Strassen |
| 14 Oct | Drai Echelen Museum Night |
Students visiting the Luxembourg Students' Fair on 9 and 10 November will also be able to see a selection of the banners at the British stall.
Published 16 June 2017