World news story
Luxembourg war memorials
British Ambassador visits the site of a Second World War Royal Air Force crash.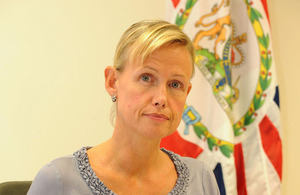 The British Ambassador to Luxembourg, Alice Walpole, together with the Royal Air Forces Association visited Marscherwald, where a RAF Halifax crashed on 28 August 1943. With the aim of showing support for war memorial sites the Ambassador visited the site of the crash close to the 70th anniversary. Local initiatives had traced the exact location of the crash, set up a memorial path and an information board. They are currently in the middle of preparing a commemorative event to mark the anniversary, that will take place in autumn in the presence of Ambassador Walpole and Royal Air Forces Association representatives.
For further information and images please see the mywort news article.
Published 20 August 2013