Luton set to benefit from Near Neighbours programme
Grassroots groups and projects across the country working to improve community relations are to benefit from £240,000 of new funding from the…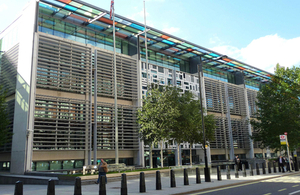 Grassroots groups and projects across the country working to improve community relations are to benefit from £240,000 of new funding from the Near Neighbours scheme, Communities Secretary Eric Pickles has announced.
Near Neighbours is a highly successful programme that uses the parish infrastructure of the Church of England to bring together people from diverse communities and different faiths in challenging areas to get to know each other better, take action on local issues and help them transform their local neighbourhoods. As well as a small grants fund the programme includes training for community activists, youth leadership projects and clergy twinning schemes.
Luton now joins areas in East and South London, Leicester, Birmingham and the northern towns of Bradford, Burnley and Oldham that have already benefited from the programme since its launch in November last year. These social action projects already up and running are drawing on sport, social media and environmental issues to improve friendships and working relationships across faith boundaries. £60,000 of the funding will be dispersed through small grants to community projects in the Luton area.
As highlighted in the Government's 'Creating the conditions for integration' paper published last month, the Government is supporting people to play an active part in society, improve their local communities.
Eric Pickles said:
I am delighted to see communities taking up Near Neighbours with such enthusiasm. This is a real investment in our shared future and a big step towards achieving a more integrated society focusing on creating the conditions for everyone to live and work successfully alongside each other.

The Church of England is doing a great job supporting grassroots groups and working hard to ensure the success of Near Neighbours in bringing lasting change to local communities. We are determined to support areas such as Luton in their efforts to reduce community tensions.
The Near Neighbours charity was created by Church Urban Fund and the Archbishop's Council following the award of £5 million by the Department for Communities and Local Government in February 2011. It is administered by the Church Urban Fund. To date the programme has disbursed nearly £400,000 in small grants (£200 to £5,000) to over 100 locally generated projects made possible by £5 million funding from the Department for Communities and Local Government.
Notes to editors
1. The programme is co-ordinated in the four targeted areas by four local hubs with experience of local community partnership working (the St Philip's Centre, Leicester, the Faithful Neighbourhoods Centre, Birmingham, the Contextual Theology Centre East London and Bradford Churches for Dialogue and Diversity). The programme also works in partnership with the Christian Muslim Forum, the Council of Christians and Jews and the Hindu Christian Forum; and with the Nehemiah Foundation and The Feast.
2. To date the programme has disbursed nearly £400,000 in small grants (£200 to £5,000) to over 100 locally generated projects including:
ELT Baptist Church's engagement with young Muslim women. The Churches' programme of activities encourages young Muslim women, predominately from Bangladeshi and Somali backgrounds, to engageme with the wider East London community giving them the support and connections to get involved in wider social action on issues which affect them.

North Kirklees Interfaith Council's Youth Short Film Project. The film project is using social media and modern technology to address tensions between young people in Dewsbury from Muslim and Christian backgrounds. Young people are invited to submit short mobile phone videos about life in Dewsbury, the best of which will be edited into a short film to promote a more positive impression of life in the diverse community.

Pennine Lancashire Community Farm Community Gardening Project Development. After the success of the Pennine Lancashire Community Farm in Burnley, established to promote community cohesion and sustainable living, their Near Neighbourhoods funding will support work on a second site in a predominantly white British and eastern European area with similar levels of deprivation to the first site. The gardening projects encourage local residents to grow food to use in their own cooking and will support joint events between the two sites and communities.

Indika Cultural Centre's Jubilee football tournament. The Hindu-based community group is bringing together London's South Asian communities by organising a football tournament during the Diamond Jubilee bank holidays. Four teams representing the British Pakistani, Indian, Bangladeshi, and Sri Lankan communities will be taking part. It is hoped this first encounters event will lead to further collaboration and relationship building activities between the communities.
3. Further information about Near Neighbours, including the Near Neighbours Fund, is available at www.near-neighbours.org.uk (external link).
4. For media enquires (including media enquiries relating to Church Urban Fund) please contact Emma Bennett or Jeremy Aspinall on 020 7898 1668/1856 or e-mail emma.bennett@cuf.org.uk.
Twitter
Keep up to date with the Department by following us on Twitter (external link).
Media enquiries
Visit our newsroom contacts page for media enquiry contact details.
Published 16 March 2012