Press release
Lucky escape for RIB trio off Anglesey
3 people and their dog had a lucky escape off Anglesey when they were thrown from a RIB which then circled them at high speed.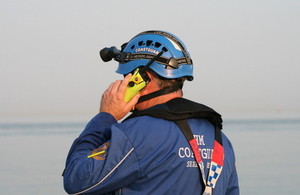 The incident has underlined the need to use a kill-cord – the device that is attached to a RIB driver and immediately shuts down the motor when the wearer moves away, or is thrown, from the cockpit. In the past, deaths and horrific injuries have been caused by the propellers of high-powered, out-of-control boats to people who have fallen out.
In this case, the occupants managed to avoid the circling RIB and swim to nearby rocks at Rosneigr Beach. They were picked up by a boat and taken to the shore unscathed; the RIB was quickly brought under control. The RIB's occupants told Holyhead Coastguard, who were alerted at 12.30pm on Thursday 11 September 2014 by the local surf shop, that the driver had removed the kill-cord to inspect a deflated buoyancy chamber and they had been thrown out of the craft when the throttle had been activated.
Duty Watch Manager at Holyhead Coastguard, Barry Priddis, said:
"This incident might have had a far more tragic conclusion and the occupants of the RIB had a very lucky escape. Kill-cords should be worn at all times, regardless of whether a boat is stationary or under way. All too often Coastguards deal with sometimes horrendous incidents where a kill-cord is removed only temporarily."
Maritime and Coastguard Agency press office
Press enquiries 020381 72222 (Monday to Friday, 9am-5pm)
Outside these hours, for emergency press enquiries only please dial the above number. You will hear a message giving an out of hours pager number.
Published 11 September 2014