Lucélia Taranto Rodrigues on 'green' architecture and the UK
In a Foreign Office film launched today, the Brazilian urban designer talks about Britain's vibrant, multicultural society and its drive to develop more sustainable ways of life.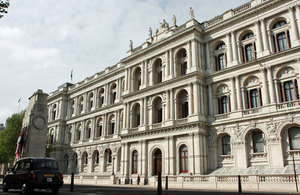 The film is one of the 'See Britain through my eyes' series featuring individuals from abroad looking at modern Britain in the run up to the London 2012 Olympic and Paralympic Games.
In her short 'See Britain' film, Lucelia talks about coming to the UK to study sustainable architecture. She discusses the ambitious moves the UK is making to address the carbon challenge, and talks about how being in Britain has changed her in a positive way, both professionally and personally. Watch the film below.
Speaking about living in the UK, Lucelia says, "It has opened my eyes to a huge world that is out there. It now feels a lot smaller, a lot closer because I can have it all here. I never felt so close to other cultures as I do here. And my level of tolerance and acceptance has changed immensely and I'm a completely different person. Now, I cannot tolerate prejudice of any kind to anyone."
Throughout her career Lucelia has focused on environmental design and bioclimatic architecture, building on the link between architecture, construction services and renewable energy technologies. She qualified as an architect and urban designer in 1999, spending the next five years working in practice on residential and commercial building projects.
Having acquired significant experience in the use of recycled and reclaimed materials in modern architecture, Lucelia then completed an MSc in Renewable Energy & Architecture. She has been informally teaching and tutoring in the School of the Built Environment at Nottingham University for the last four years and has been a full time member of the staff since autumn 2008.
Published 15 October 2010