Press release
Lowest paid BIS contractors to benefit from pay rise
The lowest paid contracted staff working at the Department for Business, Innovation and Skills will benefit from an above inflation pay rise.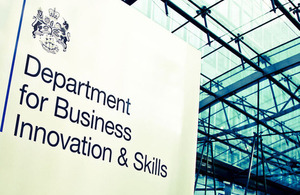 The lowest paid contracted staff, including cleaners, working at the Department for Business, Innovation and Skills (BIS) will benefit from an above inflation pay rise, Business Secretary Vince Cable announced today (28 March 2014).
From 1 April 2014, the lowest paid contracted staff at BIS offices across the UK will be paid £7.85 per hour, up £1.40 or nearly 22% from the current £6.45 per hour rate. This increase will restore and surpass the real value of wages that has fallen in recent years.
Business Secretary, Vince Cable said:
I have always encouraged businesses to raise wages when it is affordable and will not lead to job losses. As the recovery continues I want to ensure that all workers – especially the lowest paid – are able to share the benefits of growth. This is why I have announced an affordable pay rise for the lowest paid contractors working at my Department.

While we will have reduced our overall departmental running costs by £500 million by 2015, this pay rise will see the wages of some of the lowest paid BIS employees restored to more than their pre-recession level, making a real difference to their take home pay.
As well as encouraging employers to raise wages where affordable, the government is committed to increasing compliance by all employers with National Minimum Wage legislation. This includes cracking down on employers who fail to pay the National Minimum Wage through tougher penalties, raising awareness of workers' rights and naming and shaming employers who flout the law.
Notes to editors:
There are 81 BIS and BIS partner organisation sites across the UK.

Our policy on the National Minimum Wage is to maximise the wages of the low paid without damaging their employment prospects by setting it too high.

The government's economic policy objective is to achieve 'strong, sustainable and balanced growth that is more evenly shared across the country and between industries'. It set 4 ambitions in the 'Plan for Growth', published at Budget 2011:
to create the most competitive tax system in the G20
to make the UK the best place in Europe to start, finance and grow a business
to encourage investment and exports as a route to a more balanced economy
to create a more educated workforce that is the most flexible in Europe
Work is underway across government to achieve these ambitions, including progress on more than 250 measures as part of the Growth Review. Developing an Industrial Strategy gives new impetus to this work by providing businesses, investors and the public with more clarity about the long-term direction in which the government wants the economy to travel.
Published 28 March 2014