World news story
Lower Saxony welcomes Royal guest
HRH The Duke of York KG visits Lower Saxony on 3 and 4 June: A Royal guest at the Queen's Birthday Party at Schloss Herrenhausen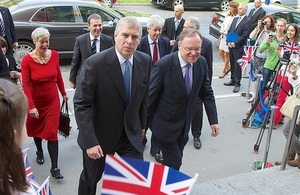 As part of the celebrations marking the 300th anniversary of the Personal Union, British Ambassador Simon McDonald this year year relocated the traditional Embassy Garden Party in honour of the official birthday of Her Majesty Queen Elizabeth II from Berlin to Hanover.
The Duke of York attended the event at Schloss Herrenhausen, the former summer residence of the House of Hanover, on 4 June 2014. He officially named a "George I Rose" in the Herrenhausen Gardens. The event also included a ceremony marking the departure from Germany of 1st Armoured Division.
The Duke of York's programme will also include meetings with Lower Saxony Minister President Stephan Weil, Hanover Mayor Stefan Schostok and a visit to the exhibition: "The Hanoverians on Britain's Throne 1714 – 1837" at the Lower Saxony State Museum.
With a special interest in education and skills, science and engineering, and SMEs and entrepreneurship, HRH had the opportunity to discuss these fields with British and German partners and deepen the relationship between Lower Saxony and the UK.
He began his visit in Wolfsburg, home of the world's second largest carmaker, Volkswagen. Volkswagen is a major investor in the UK; it is 100% owner of Bentley Motors PLC, based in Crewe. HRH met apprentices from both Volkswagen and Bentley, and learned more about Volkswagen and Bentley's shared training programmes. The visit was also a chance to highlight the role played by British Officer Ivan Hirst in rebuilding Volkswagen after the Second World War. HRH presented the annual Ivan Hirst award to a young researcher.
From Wolfsburg, HRH headed south to Göttingen. Its historic university was founded by George II in 1737 and remains one of Germany's most prestigious. HRH met students and academics representing the lively modern-day academic exchange between Britain and Germany. He was also shown some of the treasures of the University library, including early works by Newton and Caxton.
The visit served to highlight the strong trade and investment links between Lower Saxony and the UK. In addition to Volkswagen, HRH visited the headquarters of Europe's largest travel group TUI AG, which owns a majority stake in TUI Travel PLC, headquartered in Crawley, West Sussex.
The 123 years of the Personal Union represent a period of particularly rich political, cultural and scientific exchange between Britain and northern Germany. The Georgian era was a vitally important period in Britain's economic, constitutional and political development, encompassing the Industrial Revolution and the rise of the British Empire.
Celebrating the historical ties between the UK and Lower Saxony serves also to remind us of the deep modern-day partnership that our two countries enjoy – economically, culturally and as partners on the international stage.
Download material for media:
Twitter
For updates check #PersonalUnion
Facebook
Published 1 April 2014
Last updated 5 June 2014
+ show all updates
New link to photo galleries
With further information and accreditation guidelines
Added translation
Added translation