Press release
Low carbon car clubs given £40,000 boost
Government boost for car club development in the UK.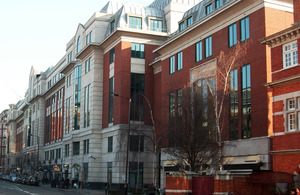 Car clubs are set to benefit from an extra £40,000 of government funding, Transport Minister, Norman Baker, announced today (1 July 2010).
The money will be used to support car club development in the UK.
Membership of car clubs allows access to low carbon vehicles for short periods of time, often by the hour, on a pay-as-you-go basis. The clubs have increased massively in popularity with the number of members increasing from just 22,000 in 2007 to more than 127,114 members to date.
The government views such schemes as an effective way of tackling congestion, reducing the level of CO2 emissions and improving the quality of life of citizens and communities.
Members tend to choose to travel fewer miles by car compared to private car owners and the vehicles they do drive are more efficient.
Transport Minister, Norman Baker, said:
The coalition government, in its programme for government, has been clear in its commitment to sustainable travel initiatives such as car clubs to help achieve a greener and more sustainable transport sector.

The figures speak for themselves - each car club vehicle can result in taking 24 private vehicles off the road and the low carbon vehicles used typically emit approx 33% less CO2 than the average car. This is why we are supporting the continued growth of car clubs across the country.
Research has shown that pay-as-you-go car clubs reduce car use and support other sustainable travel initiatives by plugging gaps in journeys and promoting a shift in long term behaviour.
Antonia Roberts, Director of Carplus - the national charity supporting car club development, commented:
£40,000 may seem like a relatively small amount of funding but it has a huge significance in this period of reduced spending. The DfT's announcement signifies valuable support for car clubs, which can save individuals, businesses and local authorities money, reduce emissions and support sustainable transport objectives.
The Mayor of London, Boris Johnson, said:
Car clubs are a brilliant idea and membership is booming in the capital. A quite staggering three quarters of the UK's car club cars are located in our great city, and Londoners joining up have found they are able to save thousands of pounds by avoiding all the hassle of repairs, services and insuring their vehicles. Our focus now is to increase membership in the capital's outer boroughs and I welcome all extra support for these cracking clubs, which are becoming indispensable to their thousands of members.
Today's (1 July 2010) announcement will combine with Transport for London's continued funding to support the provision of core services developing car clubs.
Ian Moffat, a car club member from London, said:
I am delighted with my car club membership. It's a much cheaper and greener alternative to running a car and, with its own dedicated parking space, I get to eliminate one of the biggest hassles of owning a car.
Notes to editors
Carplus is the national transport charity promoting a rethink in car use by promoting the role of car clubs within a sustainable transport future.
The announcement made by the Department for Transport of £40,000 is for Carplus to continue its core services, which include accreditation, data collection and information services for the promotion and development of car clubs.
The Transport Minister made this announcement in Richmond Upon Thames this morning. As part of Smarter Travel Richmond upon Thames, an initiative between Richmond Council and Transport for London (TfL) to encourage greater use of sustainable travel options, more than 3,000 residents have now signed up to car clubs in the borough.
TfL is providing £57,000 for Carplus as part of a wider investment in 2010-11 in car clubs. Over 100,000 Londoners are car club members, meaning that London is the car club centre of the UK.
Car clubs fast facts are:
hiring a car club car costs around £5 an hour
fuel is included in the hourly rate, with the majority of operators offering free mileage with each hire
low - or no - annual fee; less than the cost of a tax disc alone
cars can be booked either well ahead of time or with a few minutes notice
joining a car club takes around 48 hours and is open to anyone 21 years and over - some car clubs now accept members aged 18 and upwards.
Car club operator websites are:
News desk enquiries
Media enquiries 020 7944 3021
Out of hours media enquiries 020 7944 4292
Switchboard 0300 330 3000
Published 1 July 2010