World news story
Louise Makin visit to Copenhagen
Louise Makin, CEO of BTG plc and a member of the UK government Business Task Force looking at better EU regulation visits Copenhagen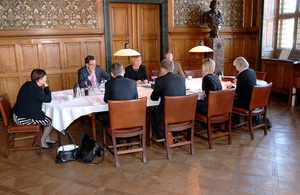 Louise Makin, CEO of the healthcare company BTG plc, and a member of the UK Government's Business Task Force visited Copenhagen on 1 May.
She was in Denmark to discuss the "Cut EU Red Tape" report and in particular the COMPETE principles, and met with Danish business organisations, the Danish Ministry for Business and Growth and the Danish Business Agency.
Louise Makin was also interviewed by leading Danish financial daily newspaper Børsen where she was asked about the COMPETE principles and her rationale for taking on the Prime Ministers challenge to do something to address the problems of disproportionate or burdensome regulation from EU which act as barriers to growth.
She made it clear that over burdensome regulation is not a political problem, but a business problem. The main issue that needs to be addressed is one of global competitiveness. The Task Force therefore had also reached out to other member states for suggestions of where regulation needed to be simplified or amended to ease conditions for the business community across Europe. The Confederation of Danish Industry, which contributed to the report, were indeed grateful that many of its suggestions had made it into the final report.
Whilst there are naturally some small divergences in views on the COMPETE principles between EU member states, there was a clear meeting of minds between Denmark and the UK. Consensus around the table at the meetings was that to take this forward, it was important for business to get a stronger voice in Europe and to focus on the areas where we agree.
Published 1 May 2014