World news story
Louis Taylor visits India 20 - 23 February
Louis Taylor visits India to promote flexible and innovative financial support for Indian businesses trading with the UK.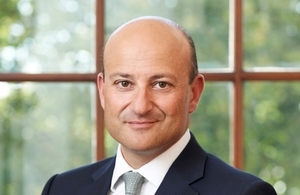 Louis Taylor, Chief Executive Officer (CEO) of UK Export Finance (UKEF), is visiting India from 20 to 23 February. UKEF, the UK's Export Credit Agency, has up to £1 billion in capacity to provide finance to support Indian buyers of British goods, services and intangibles, with support available in Indian Rupees.
While in India, Louis Taylor will travel to Chennai, Delhi and Mumbai to engage with Indian buyers from the government and private sector. During these meetings, Mr. Taylor will promote the attractive financial support available from UKEF to Indian buyers when they source from the UK.
He will also affirm the UK government's appetite to support India's major infrastructure development projects, including the areas of transport, energy infrastructure, urban development and smart cities.
Louis Taylor said:
The UK government is committed to building strong and lasting economic ties between the UK and our trading partners in India, the world's fastest growing major economy. And through UK Export Finance, we are ensuring that no trade between the UK and India fails for lack of finance or insurance.

I am delighted to be meeting Indian banks, businesses and public sector units to understand more about how we can work together and identify opportunities to support increased bilateral trade.
In Chennai, Mr. Taylor will attend a conference of international export credit agencies and will meet with prominent businesses from the south.
In New Delhi, Mr. Taylor will be meeting senior officials from Oil and Natural Gas Corporation Limited. He will also be meeting officials at Ministry of Urban Development to discuss how UKEF can support India on wider urban development projects and the smart cities programme.
He will attend a roundtable with Confederation of Indian Industries (CII) and key Indian businesses looking to import from the UK. He will wrap up the Delhi leg with meetings with a number of Indian companies, including a UK success story in India, JCB.
In Mumbai, Mr. Taylor, will hold meetings with senior officials at several Indian companies, including Reliance Industries Limited, for which UKEF has recently provided support for a petrochemicals project.
Further information
Louis Taylor is Chief Executive of UK Export Finance. His prior roles included Chief Operating Officer, Group Treasury at Standard Chartered Bank, CEO of Standard Chartered in Vietnam, Cambodia and Laos, and Vice Chair of the European Chamber of Commerce in Vietnam.
UK Export Finance is the UK's export credit agency and a government department, working alongside the Department for International Trade as an integral part of its strategy and operations.
UKEF has up to £1 billion capacity to support Indian buyers of UK goods and services. It is able to provide a range of flexible and long-term financial support, including direct loans and guarantees on bank lending, with finance available in Indian Rupees and payment terms of up to 10 years.
Media
Stuart Adam, Head,
Press and Communications
British High Commission,
Chanakyapuri, New Delhi 110021
Tel: 24192100; Fax: 24192400

Mail to: Jagori Dhar
Follow us on Twitter, Facebook, Flickr, Storify, Eventbrite, Blogs, Foursquare, Youtube, Instagram, Snapchat @UKinIndia, Periscope @UKinIndia
Published 21 February 2017