Louis Taylor appointed to head UK Export Finance
Louis Taylor has been appointed as the new Chief Executive of UK Export Finance (UKEF), taking up the role in October.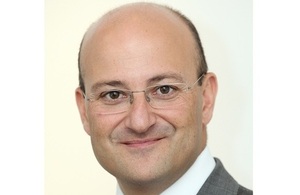 Louis is currently Chief Operating Officer, Group Treasury at Standard Chartered Bank. He has extensive experience in banking and business in the UK and overseas, including across Asia.
He becomes the 16th head of UKEF (formerly the Export Credits Guarantee Department) since its foundation in 1919 as the world's first export credit agency (ECA). In 2014-15 UKEF provided £2.7 billion of finance and insurance support for UK exports to 72 countries including a number of firsts: its first direct lending to an overseas buyer; the first ECA guarantee for a loan in Chinese offshore Renminbi; and the world's first ECA-backed Islamic finance bond or sukuk.
Louis' other recent roles include being CEO of Standard Chartered in Vietnam, Cambodia and Laos, and Vice Chair of the European Chamber of Commerce in Vietnam. His early career included eight years in investment banking and five years running strategy and acquisitions for two industrial firms. He is a former Chair of Trustees of the charity, Music in Prisons.
Welcoming Louis to this appointment Lord Maude, Minister for Trade and Investment said:
I am delighted Louis has agreed to take on the key role of Chief Executive at UK Export Finance. He brings extensive experience of international trade and banking, plus knowledge of the world's most exciting and fast-growing markets. The position is central to our whole-of-government drive to supercharge UK exports in the years ahead.
Louis Taylor said:
I am delighted to join UKEF at such an exciting time, with its new products, a recently widened mandate, and an ambitious business plan. I look forward to helping the organisation and its staff make the most of these powerful new opportunities to support UK exports.
Notes for editors
Louis Taylor succeeds David Godfrey, who has been CEO since September 2013.
This appointment has been approved by the Civil Service Commission and the Prime Minister.
The process was supported by the government's Shareholder Executive, part of the Department for Business, Innovation & Skills which manages government's interventions in the private sector to secure best value for the taxpayer.
UK Export Finance is the UK's export credit agency. It supports long term economic growth and competitiveness by complementing the private market with insurance for exporters, loan guarantees to banks, and support for and provision of loans to overseas buyers of UK goods and services.
Sectors in which UKEF has supported exports include: aerospace, construction, oil and gas, mining and metals, petrochemicals, telecommunications, and transport.
UKEF has a regional network of 24 export finance advisers supporting export businesses.
UKEF supports exporters with a range of products that include: * Bond insurance policy * Bond support scheme * Buyer & supplier credit financing facility * Direct lending facility * Export insurance policy * Export refinancing facility * Export working capital scheme * Letter of credit guarantee scheme
Media enquiries: Robert Maccabe, Head of Press and Corporate Communications
Published 2 September 2015