Press release
Lose your passport, lose your holiday - Keep it safe
Rome City Council and the British Embassy in Rome promote prevention campaign against passport loss, addressed to all English speaking tourists.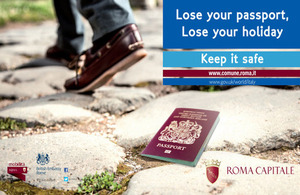 The message "Lose your passport, lose your holiday - Keep it safe", will be advertised on all transport services including train stations, buses, airports, and also info points & social media, by means of posters, videos, banners and multimedia supports.
The campaign highlights the importance of keeping your passport safe. Losing your passport will cost you time, money and could ruin the entire holiday. Obtaining an emergency travel document can take several days and you may need to obtain a police report, get passport photos, and of course get to and from your nearest British consulate or embassy. You may also have to replace any visas you need for your journey. It can cost up to £200 to replace your passport. These expenses can spiral if you need to rearrange holiday plans.
The cost is not only for the victim but also for consular staff and local police who are involved in the procedure required for the issuing of a travel document.
British nationals who need an emergency travel document should call +39 06 4220 2431 and make an appointment with the Embassy. The procedure for how to apply for an emergency passport is available here.
Follow #travelaware for updates on travel advice.
Follow @UKinItaly.
Published 17 April 2014