News story
Lorry driver jailed for cocaine smuggling attempt
Border Force officers in Dover find cocaine hidden in a lorry.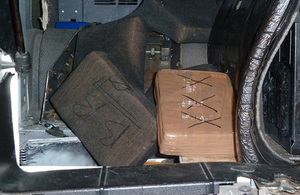 A Romanian lorry driver has been jailed for seven years after attempting to smuggle 10 kilos of cocaine into the UK at Canterbury Crown Court.
The drugs had an estimated street value of £675,000.
Border Force officers stopped a Romanian-registered lorry at Dover's Eastern Docks on 5 October 2013. After questioning the driver, Ioan IONCE, officers searched the lorry and its load of stonework for delivery to Sundridge in Kent.
Officers found a purpose built concealment within the cab and inside were 10 brown taped packages containing the drugs.
Ionce was arrested and the investigation passed to the National Crime Agency.
Ionce pleaded guilty at a hearing at Canterbury Crown Court yesterday, Monday 20 January, and was sentenced to seven years imprisonment.
Paul Morgan, Director of Border Force South East and Europe said:
Drug trafficking is a serious offence and those convicted will face prison sentences. Our message to those who would consider it is that it's just not worth it.

Border Force officers will continue to work diligently to keep our border secure and to make life as tough as possible for those who seek to profit from this evil trade.
Anyone with information about activity they suspect may be linked to drug smuggling should call the hotline on 0800 59 5000.
Published 21 January 2014