Lorraine Kelly launches Armed Forces Christmas Box campaign
TV presenter and journalist Lorraine Kelly joined members of the Armed Forces at the Tower of London today to launch the annual Christmas Box campaign for the Armed Forces.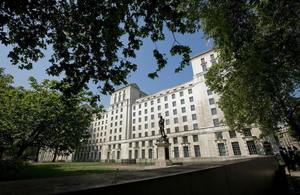 The campaign, run by the charity uk4u Thanks!, sees some 22,500 boxes, full of festive cheer, sent to servicemen and women right across the world who are working away from their families, and to those in hospital this Christmas.
To launch the boxes - affectionately known as 'square stockings' by the Armed Forces - in truly explosive style, Lorraine Kelly fired a ceremonial gun belonging to the Honourable Artillery Company from Tower Wharf, the traditional site of all Royal Gun Salutes.
Accompanying Lorraine in wishing our servicemen and women a Happy Christmas were Father Christmas, and members of the Armed Forces who have previously received a Christmas Box while serving on operations on Christmas Day.
uk4u Thanks! works with the Armed Forces to send the boxes, each containing some 20 items, out to locations such as Afghanistan, the Falklands, and ships and submarines across the world in time for Christmas Day.
They do not use the British Forces Post Office system, so do not delay parcels from families and friends getting through.
Speaking at the launch, Lorraine Kelly said:
I'm delighted to join in the celebrations for the Christmas Box appeal this year. With so many of our servicemen and women away from their families at Christmas, it's important that we let them know they are in our thoughts.

Donating to the charity, uk4u Thanks! is a way for us all to say Happy Christmas to our Armed Forces!
Armed Forces Minister Nick Harvey said:
Christmas can be a difficult time for our troops on operations when separation from their families is felt most acutely.
[uk4u Thanks!] allows the public to demonstrate their support for our troops at Christmas time without putting pressure on the supply chain and forces mail system. With [uk4u Thanks!]'s help, our troops on operations can celebrate Christmas knowing that all of us back home are thinking of them.
Captain Tom Cardwell, who helped Lorraine Kelly to fire the gun at the launch, has served on operations at Christmas in previous years. He said:
I was given a [uk4u Thanks!] Christmas Box while serving in Iraq during 2006. Receiving the box while serving far away from home, and at such a special time of year, was a real boost to morale.

You can see that the charity thinks hard about what the contents will be, as the collapsible cup and head torch were really useful. I kept my box after the tour as a memento as I was so pleased to receive it.
Sally Little, a uk4u Thanks! Trustee, said:
Our aim is to give our Armed Forces a Happy Christmas, and to make sure they know we're thinking of them at this special time of year.

We're very grateful for the fantastic support we receive from individuals and organisations each year, and I know through the many messages of thanks we receive from servicemen and women that this is a worthwhile cause.
Along with donations from the public, the charity is supported by a number of Defence companies including BAE Systems, Sodexo, Finmeccanica, the Nuffield Trust for the Forces of the Crown, and Marks and Spencer.
People wishing to donate to the Christmas Box campaign can do so at www.uk4u.org or by sending a cheque payable to "uk4u Thanks!" to:
uk4u Thanks!
The Old Granary
East Street
West Chiltington
West Sussex
RH20 2JY

Published 6 December 2011