Lord Taylor to review practical planning guidance
External group to look at streamlining the 6,000 pages of planning practice guidance.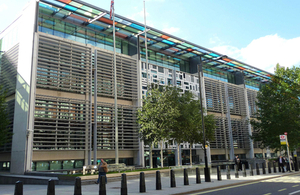 A government review of planning practice guidance is being undertaken by former MP Lord Taylor, Planning Minister Nick Boles announced today.
Lord Taylor of Goss Moor will lead an external group that will look to streamline some 6,000 pages of practice guidance that explains statutory provisions, planning and the planning system.
Lord Taylor has invited Simon Marsh, Andrew Whitaker, Trudi Elliott and Councillor Mike Jones to join the group. They will be sitting as individuals and not representatives of their respective organisations.
The large amount of planning practice guidance currently used - added to over the years and often contradictory - makes it difficult for residents and businesses to engage effectively with the planning system. This review will streamline that practical guidance to make the planning system swifter and more accessible.
A clearer, reduced set of planning practice guidance will better support growth, help create the homes and jobs that the country needs, protect and enhance our natural and historic environment, and help put power back into the hands of communities.
The review follows the National Planning Policy Framework which distilled around 1,000 pages of planning policy into a streamlined, easy-to-understand 47-page document. This guidance review will not involve any changes to national policy set out in the framework.
Lord Taylor said:
"I am very pleased to accept the role of Chair of the review of planning practice guidance. I am determined the review will make a significant contribution to the wider work on planning reform, and the aim to make planning simpler, more transparent and accessible for everyone involved in delivering sustainable development."
Nick Boles said:
"The planning system needs to be supported by practical guidance that is clear and easily accessible if it is to be effective. Even planning experts struggle to navigate the 6,000 pages of guidance that currently supports the system.
"I am delighted that Lord Taylor has agreed to lead this review of practice guidance and I look forward to reading the recommendations of his expert group."
Further information
Matthew Taylor, Lord Taylor of Goss Moor, was author of the Taylor Review of Planning (Rural Economy and Affordable Housing - Living Working Countryside, 2008). He is chairman of the National Housing Federation which represents 1,100 housing associations across England, chairman of the St Austell Eco-Town Strategic Partnership and was, until recently, founder Chair of the Rural Coalition (representing 14 national organisations interested in the sustainable development of rural communities). He was MP for Truro and St Austell for 24 years from 1987, until he stood down at the 2010 general election.
Simon Marsh from the Royal Society for the Protection of Birds, Andrew Whitaker from the Home Builders Federation, Trudi Elliott from the Royal Town Planning Institute and Councillor Mike Jones, Leader of Cheshire West and Chester Council are sitting independently and not representing their organisations.
You can read the terms of reference for the review.
Published 16 October 2012