World news story
Lord Mayor visits Kazakhstan
Lord Mayor Fiona Woolf visits Almaty & Astana 3-5 September to forge closer UK-Kazakhstan business links.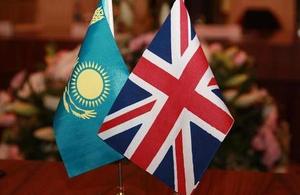 The elected head of the global business 'City', Lord Mayor Fiona Woolf, visits Almaty and Astana from 3-5 Sept to strengthen business relations between the UK and Kazakhstan.
Accompanied by a British business delegation including representatives from the UK private and public sectors, leading lawyer Lord Mayor Woolf will take part in two major International Conferences: the 'Kazakhstan Islamic Finance Conference 2014' (Almaty) and the international conference 'Kazakhstan's role in a Globalising World: Trade and Investments' (Astana).
The Lord Mayor will also officially open two seminars organised by the British Embassy Kazakhstan, the British-Kazakh Law Association and the Law Society under the GREAT campaign. During these seminars invited UK and local Kazakh experts will share with Kazakh lawyers the best worldwide practice in corporate governance. Recent political developments, sanctions, and their effect on business and the economy will also be discussed. Lord Mayor will conduct a series of high-level meetings with a wide range of key governmental officials and business representatives. The Lord Mayor's visit highlights the increasing levels of co-operation in various commercial sectors between the UK and Kazakhstan.
Lord Mayor Woolf said of her visit:
The UK and Kazakhstan have a good working relationship which we both want to deepen as both our countries face the challenges and opportunities that the 21st century is bringing.

The UK's financial and professional services sector is a global leader and I will be glad to share the City of London's expertise with Kazakhstani counterparts and interlocutors. I look forward to participation in the two international conferences and the launch of another GREAT project in Kazakhstan. I'm sure, too, that the upcoming meetings with Kazakhstani colleagues will contribute to further development of fruitful business links between Kazakhstan and the UK.
Notes for Editors:
The GREAT Britain campaign is the UK Government's international marketing campaign which showcases the very best of what Britain has to offer in order to encourage the world to visit, study and do business with the UK. The campaign is currently active in over 144 countries. GREAT aims to deliver significant and long-term increases in trade, tourism, education and inward investment in support of HMG's prosperity and growth agenda. GREAT has secured an economic return of over £500m from its first year of activities. Since launch, the campaign has made a major impact globally: an independent assessment of the GREAT brand itself has shown that the brand has a current value of around £100m.

For any further information, please contact Elvira.Yausheva@fco.gov.uk tel.: + 7 7172 55 62 17.
Published 2 September 2014