World news story
Lord Mayor ushers in 'new wave' of UK firms investment in Kenya
Alderman Fiona Woolf, the Lord Mayor of the City of London and global ambassador for UK-based financial and business services, visits Kenya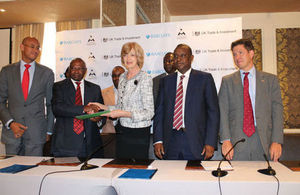 Alderman Fiona Woolf, the Lord Mayor of the City of London and global ambassador for UK-based financial and business services, visited Kenya between 16-17 September 2014.
The Lord Mayor, only the second woman to hold the role since 1189, met with His Excellency President Uhuru Kenyatta; a number of Cabinet Secretaries including Amina Mohammed (Foreign Affairs) and Henry Rotich (National Treasury); and leading figures from across the political and business landscape to discuss opportunities for UK investment in Kenya.
The Lord Mayor was accompanied by a trade delegation of around 25 leading UK businesses, (including De La Rue, Prudential and Barclays), all seeking to do new business in Kenya. UK firms have long history of success in the traditional Kenyan sectors of agriculture, food, drink and more recently, telecoms. The two largest private sector employers in Kenya are UK companies, as are five of the top ten taxpayers.
UK firms are now leading a 'new wave' of investment in Kenya across key enabling sectors such as financial services, energy, education and aviation, which will drive the whole Kenyan economy towards delivery of Vision 2030.
The Lord Mayor's visit served to spearhead this new wave of investment, delivering an initial phase of deals worth over £100m (Ksh15 billion). In Financial Services, where the UK is helping Kenya insure against risk and raise the funds for big infrastructure projects, the visit delivered over Ksh7.5 billion in new business across the sector, including significant investment from Prudential Plc and Price Waterhouse Cooper (PWC). The Energy sector, powering Kenyan economic industry and growth, saw an additional Ksh7.3 billion investment by UK companies in Geothermal, Solar, Biogas and Wind within Kenya. Significant new announcements were also made in the sectors of Education, Skills and Training, and Aviation.
This new investment underpins a modern, vibrant relationship which is delivering for both countries as the UK and Kenya work towards our shared goal of a more prosperous and secure nation.
The Lord Mayor also took part in a "Women in Business" panel discussion, chaired by leading TV anchor Julie Gichuru and attended by Anne Waiguru, Cabinet Secretary for Devolution and Planning. Other events included a Legal Services breakfast sponsored by Law firm Hamilton, Harrison & Mathews; a business lunch hosted by The National Treasury; and a roundtable event centred upon Capital Markets Development.
Photos of the visit here
Published 19 September 2014