Lord Howell's interview with Gulf Times
Lord Howell praises Qatar's efforts at mediation and crisis resolution in the region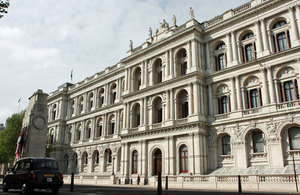 Relations between Qatar and the UK are as strong as they have ever been, according to a visiting British government official, who praised Qatar's efforts in brokering peace throughout the wider region and warned against the effects of a rise in the price of oil as the world emerges from a global financial crisis.
Minister of State of the Foreign and Commonwealth Office Lord David Howell called for more dialogue between Opec and consumer countries, and having worked on such discussions for some 30 years as part of his role as the former minister of state for energy, he said that the need for talks and closer ties was as pressing as ever.
"The need for greater stability in oil and gas markets and the need for dialogue between Opec countries and consumer countries is stronger than ever - at the moment it is very important that they are strengthened because a sudden huge surge in oil prices again like we had three years ago, would kill off the world recovery and damage everybody, including the whole of this region," he argued.
Lord Howell visited Qatar yesterday before travelling to Saudi Arabia, the UAE and Kuwait to maintain strong ties with major oil and gas providers in the region. Read full article here.
Published 30 May 2011