Lord Howell: British companies 'well-placed' to win business in Qatar
Foreign Office Minister Lord Howell of Guildford spoke at a masterclass in London for companies doing business in Qatar.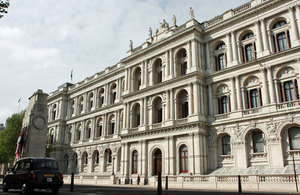 British companies attended a business masterclass in London on 5 - 6 July to learn about the practicalities of doing business in Qatar, and the support available from the UK Government.
Qatar Infrastructure Projects 2011, organised by MEED, highlighted opportunities for UK companies in forthcoming infrastructure projects, with presentations from senior Qatari CEOs and officials and leading UK companies working in Qatar, including Atkins, Arup, and Foster & Partners.
Speaking at the event, Foreign Office Minister Lord Howell said:
"British companies are winning business in Qatar and are well placed to win more, and we intend to do so. And the rewards are not just there for the bigger, established players. We want to see more and more British SMEs pulled into supply chains.
"The UK Government is strongly committed to fostering greater commercial engagement, partnerships and opportunities on infrastructure development with Qatar."
An estimated $100 billion in infrastructure projects is currently planned or underway in Qatar across a range of sectors. The 2022 World Cup will require around $57billion in infrastructure development relating to stadia, rail, roads and accommodation. British firms have the skills, technology and expertise to help Qatar realise these projects. The UK Government's aim is to double bilateral trade with Qatar by 2015 and for the UK to be Qatar's commercial partner of choice.
Qatar is one of the world's fastest growing economies and a major gas supplier, producing 15% of the world's liquid natural gas. Qatar is the UK's third largest export destination in the Gulf.
Over the past five years, bilateral trade has increased by over 160% to £2.2 billion. Imports of Qatari goods increased by over 200% in the last year alone. The UK exported around £15 billion in goods to the Middle East and North Africa in 2010 - accounting for 6 per cent of our total goods' exports. Exports of services were worth around a further £10 billion, putting total trade with the Middle East & North Africa on a par with trade with India and China combined.
Published 6 July 2011