Lord Hill responds to 'The Independent' on free schools
Schools Minister writes in response to an article in 'The Independent' on the number of applications to set up free schools.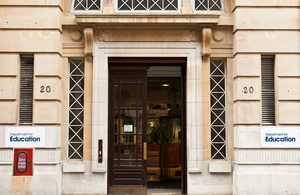 Sir,
It is true that we are only selecting the very best applications from groups who want to run new, taxpayer-funded free schools ('Most applicants to run free schools are turned down', 11 May 2011).
The fact that we have had such a strong response to free schools and academies shows a clear demand for more good local schools, where heads have control - not bureaucrats or ministers. Figures released this week show that more than 1,000 schools have applied to become academies, and nearly a fifth of all secondary schools now enjoy academy freedoms.
Children from the poorest backgrounds have been let down the most by inequalities in our schools system. So I am delighted that excellent new free schools will be set up in disadvantaged areas like inner-city Bradford and Edmonton, London.
Our reforms are about creating a generation of brilliant schools, free from meddling and prescription, that provide more children with the type of education previously reserved for the rich.
Lord Hill of Oareford
Parliamentary Under Secretary of State for Schools
Published 13 May 2011