Lord Green welcomes greater trade relations with the West Coast of America
During the visit, which lasts until the 17th May, Lord Green will meet business leaders in San Francisco and Los Angeles.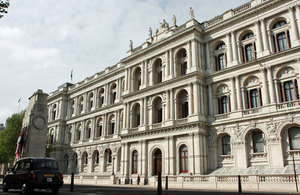 The visit includes meetings led by Lord Green to ensure enhanced co-operation with California on issues including High-Speed Rail and investment in the UK's Tech City.
The UK and US enjoy a very close commercial relationship. British companies investing in the US, for example, support nearly one million American jobs with an average salary of more than $70,000.
Yesterday, UK Trade & Investment (UKTI) launched its five-year strategy. As part of this, our aim is create up to 750 inward investment projects each year. Last year, 484 US companies invested in the UK. We hope that many more US companies will follow in their footsteps and take advantage of the extensive support we offer to help them expand profitably into the UK market. More than a quarter of all US investment to the EU goes to the UK.
Trade and Investment Minister Lord Green said:
"The UK's trade relations with the US remain strong and both countries are committed to driving forward balanced economic growth.
"My visit to California will be an opportunity to strengthen this relationship and meet many of the UK and US companies investing in our two countries.
"California and the UK are focussed on nurturing a dynamic, low-carbon economy. I want to share our knowledge and commitment to growing the talent that will deliver strong innovative companies in high-growth industries such as those taking root in the UK's Tech City."
The Government last year announced its blueprint for technology - this includes plans to develop Tech City in East London. Tech City is already a beacon for many technologies, digital and creative companies such as Lastfm, Dopplr, and Tweetdeck.
London's Tech City has grown from some 15 high-tech companies in 2008 to around 200 today in Europe's fastest-growing technology hub.
The UK's combined IT and creative industries sector is one of the most vibrant in the world and employs more than three million people and contributes more than £83bn to the UK economy.
Fact File:
UK has the biggest industries in Europe for creative industries, financial services and life sciences

UK and US enjoy the world's largest Foreign Direct Investment relationship

The UK has the strongest research base in Europe and the best IT infrastructure of all major European economies

One pound in every six from exports being earned from our trade relations with the US

US remains the UK's top export destination and after the European Union, our second-largest trading partner

In 2010 the UK attracted 1,619 FDI projects with the most projects - 484 - coming from the US.
Published 12 May 2011