World news story
Lord Green visits Malaysia promoting high value opportunities
Lord Green had a full agenda in Kuala Lumpur, opening the Subsea Asia Conference and meetings with Ministers, Government Agencies and staff of UKTI.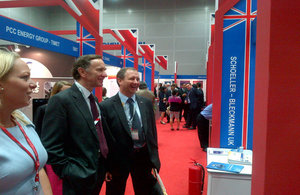 UK Trade & Investment Minister Lord Stephen Green arrived in the Malaysian capital of Kuala Lumpur as part of his Southeast Asia mission to promote high value opportunities for British businesses in the region. Malaysia is the second stop of his visit, after Indonesia.
For his first engagement in Malaysia, Lord Green delivered the opening speech at the Subsea Asia Conference 2013, organised as part of the Oil & Gas Asia 2013 conference. In his speech, the Minister highlighted the UK's expertise in the subsea oil and gas industry and the UK's willingness to share its expertise with Malaysia and other countries. He also touched on the importance of the UK-Malaysia bilateral and trade relationships as well as Malaysia's growing investments in the UK, giving as an example, the Battersea redevelopment project led by Malaysian company, SP Setia.
Lord Green said:
Malaysia is experiencing profound change, and the opportunities here are immense. Thus, the role of UKTI, the British High Commission in Kuala Lumpur and the British Chamber of Commerce is very crucial. UKTI is here to help UK companies do business in Malaysia and also help Malaysian companies set up in the UK.
During his visit, Lord Green paid a visit to his Malaysian counterpart, Dato Sri Mustapa Mohamed, Minister for International Trade & Industry. He also met with Tun Musa Hitam, Chairman of the World Islamic Economic Forum (WIEF) Foundation. The UK will be hosting this year's WIEF in London – the first time that the major international conference will be held outside Asia.
Lord Green also met with staff of UKTI Malaysia and members of the British Malaysia Chamber of Commerce. Lord Green will be heading to Singapore, Phnom Penh, Ho Chi Minh City, Hanoi, Bangkok and Rangoon following his departure from Kuala Lumpur.
Further information
Twitter updates at #LdGreenSEA
Follow Lord Green's visit on Storify
Lord Green begins two week trade mission to South East Asia
Follow British High Commission Kuala Lumpur on Facebook and Twitter
Published 5 June 2013