News story
Lord Deighton marks major milestone of work on Heathrow's new Terminal 2
Terminal 2 at Heathrow's 'One year to go' event launched Tuesday 4 June – and Commercial Secretary to the Treasury Lord Deighton was there to celebrate it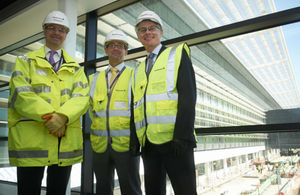 Commercial Secretary to the Treasury Lord Deighton visited the development works at the new Terminal 2 at Heathrow to mark a major milestone of the Top 40 project.
Lord Deighton, who was accompanied by officials from Infrastructure UK (IUK), launched the 'One year to go' event, and gave a speech to thousands of construction workers that were on site.
The Commercial Secretary also toured the new terminal to see the work that has been done to deliver the major infrastructure project on schedule.
The Terminal 2 project represents £2.5 billion of private investment in UK infrastructure and is an example of industry working to encourage growth locally and nationally.
This construction project will have supported 35,000 jobs across the country by the time it opens, with contracts awarded to firms in every region.
25,000 staff, many from local communities, will be trained so they can work at Terminal 2, including airline staff, retailers, cleaners and delivery drivers.
The work at Heathrow forms part the government's Top 40 priority programmes for UK infrastructure.
The Top 40 list is monitored by Lord Deighton and IUK, working with a Cabinet committee to remove barriers to delivery and ensure projects can provide the high quality infrastructure the UK needs to compete internationally.
Other Top 40 projects include Crossrail, Broadband UK, Smart Meters and the wider capital investment programmes at Heathrow and Gatwick airports.
Speaking at the terminal, the Commercial Secretary to the Treasury, Lord Deighton said:
Infrastructure is quite rightly at the heart of government plans. We're investing more, cutting red-tape and improving government capability to deliver major infrastructure projects. But the vast majority of investment and delivery capacity lies in the private sector with projects such as Terminal 2, which forms part of the government's Top 40 priority infrastructure investments.
The excellent work here reflects best practice in infrastructure delivery, progressing on time and to budget, working collaboratively with its suppliers.
This is a great example of successful project management and delivery in the UK and exactly the kind of work government is supporting through the Cost Review and other initiatives designed to help companies do their bit to give the UK the infrastructure we need to compete in a global market.
Terminal 2 opens on 4 June 2014, and it's expected that 20 million passengers a year will pass through the terminal when fully operational.
Published 4 June 2013