News story
Lord Deighton congratulates the engineers of tomorrow at Crossrail Awards
'Crossrail Apprentice of the Year', announced by Lord Deighton.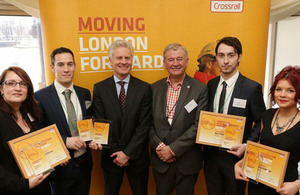 To mark National Apprenticeship Week, Lord Deighton, Commercial Secretary to the Treasury, launched the Crossrail Apprenticeship Awards on Monday 3 March. He also announced the winner of the 2014 'Crossrail Apprentice of the Year'.
Opening the awards ceremony at the Houses of Parliament he congratulated Crossrail for helping the UK to "create the engineers of tomorrow" through its apprenticeship scheme and the National Tunnelling Academy in Ilford.
Apprenticeships are at the heart of the government's drive to equip people of all ages with the skills employers need to grow and compete. There have been over 1.5 million apprenticeship starts so far this parliament, and last year more young people took up an apprenticeship than ever before.
Big infrastructure projects have a key role to play in training our young people, so that UK businesses have the skilled workforce they need to win global engineering and construction contracts.
Crossrail has been a leader in this with over 283 apprentices having gained work on the project already, and a target to train 400 young people through the scheme by the time the project ends.
Crossrail is also a partner in the Tunnelling and Underground Construction Academy (TUCA) where over 5,000 people have already been trained in specialist skills for tunnelling, underground construction and infrastructure.
Lord Deighton said:
The government is investing in projects like Crossrail and HS2 that will transform our country's infrastructure, and it's vital that we use this opportunity to support young people.

I am very pleased to be part of Crossrail's Apprenticeship Awards, as it's vital to recognise the important work that our apprentices do. Over 1.5 million apprenticeships have been created in the last 4 years, but there is still a long way to go and we need to keep working with projects like Crossrail, and in future HS2, to create the engineers of tomorrow.
Published 3 March 2014