Lord Deben put forward as Chair of Committee on Climate Change
Energy and Climate Change Secretary Edward Davey today announced that Lord Deben has been selected as the preferred candidate to succeed Lord…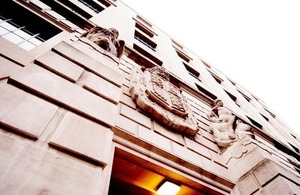 Energy and Climate Change Secretary Edward Davey today announced that Lord Deben has been selected as the preferred candidate to succeed Lord Turner as chair of the Committee on Climate Change. 
Before Lord Deben's appointment can be confirmed, the Energy and Climate Change Committee must undertake the requisite pre-appointment scrutiny process. Lord Deben, who served as Secretary of State for the Environment between 1993 and 1997, will take up the post once the appointment is agreed by the committee.
Edward Davey said:
"The Committee on Climate Change plays an absolutely critical role in advising the Government on the direction and progress of its energy and climate change policies. Lord Deben has vast knowledge and experience of the environmental sector, including a distinguished track record in both government and in business, and a detailed knowledge of climate change issues. I am very much looking forward to working with him as we move into critical period on climate change issues both at home and abroad."
Lord Deben said: 
"This appointment is a great honour. I look forward to building upon the firm foundations that Adair Turner has laid. I am determined that the Committee on Climate Change will remain firmly independent, giving impartial, scientifically well-founded advice to the UK Government and devolved administrations."
Lord Deben was a Member of Parliament until 2010. His ministerial experience included Secretary of State for the Environment and Minister for Agriculture Fisheries and Food. He was twice awarded the title "Parliamentarian who did most for the environment internationally" by the BBC as well as being described as _"the best Environment Secretary we've ever had" _by Friends of the Earth. He was Chairman of David Cameron's Quality of Life Commission, as well as Chairman of the Oxford Commission for Sustainable Consumption. For seven years he chaired the Marine Stewardship Council and he writes regularly on environmental and planning issues. Lord Deben was educated at King's School Rochester and Selwyn College Cambridge where he was President of the Cambridge Union.
Present professional positions
Chairman, Association of Independent Financial Advisers; Chairman, Forewind Ltd; Chairman, Sancroft International Ltd; Chairman, Valpak Ltd; Chairman, Veolia UK. Non-executive Director, Castle Trust Capital Ltd; Non-executive Director, Catholic Herald; Non-executive Director, Veolia Voda.
Present voluntary positions
Trustee, Blue Marine Foundation; Trustee, British Architectural Library Trust; President, GLOBE International; Member, Board of Directors, Prince Albert II of Monaco Foundation; Trustee, Theodore Trust.
Notes to editors
The Committee on Climate Change (CCC) is an independent body established under the Climate Change Act to advise the Government on emissions targets, and to report to Parliament on progress made in reducing greenhouse gas emissions. For more information on the CCC, please visit the CCC website. 
The Climate Change Act 2008 specifies that the appointment of the CCC Chair and its Members are made jointly by the Secretary of State for Energy and Climate Change (SofS) and Ministers in the devolved administrations.  
Published 5 July 2012