World news story
Lord Curry, Chairman of Better Regulation Executive, in Lisbon
This was published under the 2010 to 2015 Conservative and Liberal Democrat coalition government
Lord Curry met members of the Government to share UK experience on Better Regulation and discuss how we can work more closely with Portugal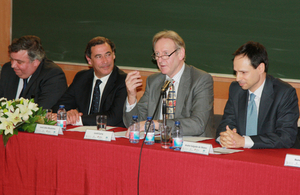 Lord Curry, Chairman of the Better Regulation Executive spent a day in Lisbon on 25 March. He met several Government Ministers, senior officials from across the administration, a wide range of representatives from business, media and academia. The various discussions throughout the day highlighted the importance both Governments attach to this agenda - an important element of our long-term prosperity aspirations.
Lord Curry shared the UK's experience on Better Regulation, focusing in particular on the key measures the British Government has put in place over the last years to reduce admin burdens, cut red tape and improve the quality of regulation and legislation; as well as the institutional framework and political mechanisms we have devised to deliver on this important agenda. He also stressed that, further do learning from each other's domestic experiences, our two countries should work more closely on Better Regulation at European level.
In the Embassy, we hope these exchanges have been a helpful contribution to the debate, as the Portuguese Government finalises its own administrative simplification programme. And we are keen to maintain a close dialogue with Portuguese stakeholders, in and outside Government, on this important agenda.