News story
Lord Chancellor reappoints 5 members of the Civil Justice Council
The Lord Chancellor the Rt Hon Michael Gove MP has reappointed 5 people to the Civil Justice Council.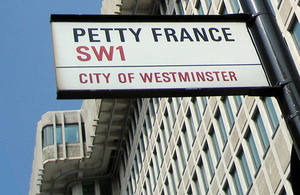 The Civil Justice Council (CJC) is a non-departmental public body which oversees the civil justice system and recommends reforms to government.
Rebecca Scott, Chris Warner, Professor Rachael Mulheron, Craig Budsworth and Alistair Kinley have all been reappointed in their respective roles.
Rebecca Scott is the lay advice sector representative of the Council and is a qualified solicitor working in the Royal Courts of Justice Citizen's Advice Bureau. She has been reappointed for 3 years until 31 December 2018.
Chris Warner is the consumer affairs member of the Council and works in the consumer protection team in the Competition and Markets Authority, and has also been reappointed until 31 December 2018.
Craig Budsworth represents the legal profession on CJC and is a partner and head of the Road Traffic Accident department at Garvins Solicitors. Craig was formerly chair of the Motor Accident Solicitors' Society and has been reappointed until 16 April 2018.
Prof. Rachael Mulheron is a legal academic and a professor of law at Queen Mary University of London and contributes to CJC on a range of subjects. Prof. Mulheron is chair of a working group on damages-based agreements, which was set up at the request of the Ministry of Justice (MOJ) in November 2014, and has been reappointed until 30 April 2018.
Alistair Kinley is a policy director in a solicitor's practice and is a partner and head of policy at insurance firm BLM. He is the chair of a CJC working group on the impact of the legal aid reforms and has been reappointed until 31 January 2016 to help finalise the establishment of the group.
The Civil Justice Council is funded by MOJ and since 1 October 2010 has been sponsored by the Judicial Office, which was created to support the judiciary following the introduction of the Constitutional Reform Act 2005.
Published 29 January 2016