News story
Lord Burns appointed as non-executive member of the Office for Budget Responsibility
The OBR non-executives play an important role in safeguarding the independence of the OBR.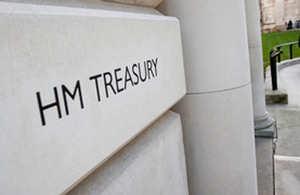 The Chancellor announces today (Wednesday 15 July) that he has re-appointed Lord Burns as non-executive member of the Office for Budget Responsibility (OBR).
Lord Burns first term of office concluded on 20 June 2015. The Chancellor has appointed Lord Burns for an additional and final three-year period of office which will conclude in June 2018.
The Chancellor said:
Lord Burns has been a very effective member of the OBR, making a significant contribution to the work and standing of the OBR in the years since it was first created.

I am delighted that Lord Burns will continue to serve as non-executive member of the OBR, providing a high level of expertise and ensuring continuity for the organisation in the years ahead.
Along with Dame Kate Barker, Lord Burns was one of the initial non-executives appointed to the OBR, first appointed in 2011.
Lord (Terry) Burns GCB is a non-executive chairman of Santander UK plc and Channel Four Television Corporation. He is a former Chief Economic Advisor and Permanent Secretary to HM Treasury, Chairman of Marks and Spencer plc and Welsh Water, and an independent adviser to the Secretary of State on the BBC Charter Review. Lord Burns is also Chairman of the Governing Body of the Royal Academy of Music.
The OBR non-executives play an important role in safeguarding the independence of the OBR and ensuring that the Chair of the OBR, Robert Chote, and the two other members of the Budget Responsibility Committee (BRC) are supported in their roles and constructively challenged.
Lord Burns will also act as Chair of the Oversight Board. The OBR's Oversight Board is responsible for establishing and taking forward the strategic aims of the OBR and for ensuring that the OBR have effective governance arrangements in place, providing assurance on our internal risk management and controls. It consists of the three members of the Budget Responsibility Committee and two non-executive members
About the OBR
The OBR was created in 2010 to provide independent and authoritative analysis of the UK's public finances.
The OBR is a central part of the UK's fiscal framework, with a responsibility to produce economic and fiscal forecasts, which the government intends to adopt as the official forecasts for the annual Budget.
The OBR also undertakes broader research and analysis into a range of issues relating to fiscal sustainability
The OBR is led by the three members of the BRC who have executive responsibility for carrying out the core functions of the OBR, including responsibility for the judgements reached in its forecasts. The current members of the BRC are: Robert Chote (Chair); Graham Parker; and Stephen Nickell.
Published 15 July 2015