News story
Lord Bridges addresses Midlands business leaders
Minister for Exiting the European Union Lord Bridges spoke to business leaders at the Midlands Engine Trade Summit in Birmingham, hosted by the British Chambers of Commerce.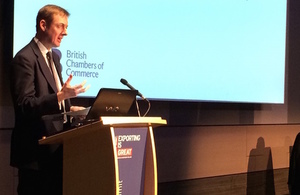 Minister for Exiting the European Union Lord Bridges said:
I am delighted to be here in the Midlands today, on the day that the Chancellor is announcing further support to put more petrol into the tank of the Midlands Engine.

Jaguar Land Rover, JCB, Aston Martin, Boots, Cadbury and Caterpillar are just some of the iconic brands that the Midlands can be rightly proud of.

It is these brands and the 370,000 SMEs in the region — the small businesses — that are so critical to our future growth.

And there are reasons to be optimistic about the future. Over the last three years, exports from the Midlands have seen the largest growth of all UK regions. And the majority of exports from the Midlands go outside the EU.

The Midlands Engine for Growth will help boost that — aiming to create 300,000 extra jobs and add £34 billion to the UK economy.
Published 9 March 2017