Press release
Lord Ahmad visits new government funded Cambridge counter fraud centre
Government funding is helping a council-led project claw back taxpayers' money lost to fraud.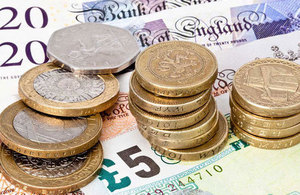 Communities Minister Lord (Tariq) Ahmad today (10 December 2014) saw first hand how government funding is helping a council-led project in Cambridge claw back taxpayers' money lost through fraud.
In November 2014, the Department for Communities and Local Government announced extra funding for a range of council-led projects to claw back billions of pounds of taxpayers' money lost each year to fraud.
The department provided £16 million to councils who are raising their game through a range of innovative projects across the country to tackle fraud. This clamp down on money wasted will tackle social housing tenancy cheats, business rates evasion, procurement fraud and social care and health tourism.
This money comes on top of £19 million already announced earlier in the year to help councils fight housing tenancy fraud.
As part of November's announcement, LGSS received a grant of £329,000 to develop a regional counter fraud centre of excellence which could save the taxpayer millions over the next 5 years.
LGSS is one of the largest public sector shared services ventures of its kind in the UK, wholly owned by Cambridgeshire and Northamptonshire county councils.
The new funding will enable LGSS to catch criminals by enhancing their specialist investigation service and develop a range of anti-fraud, corruption, bribery and money laundering e-learning packages to highlight tell-tale signs and offer counter fraud and investigative services to councils throughout East Anglia and the East Midlands.
Lord Ahmad, who is leading the department's push against local government fraud, said:
This government will not tolerate fraudsters who rip off councils and hardworking taxpayers.

The funding that we've awarded LGSS will enable it to catch these thieves and claw back taxpayers' money to protect frontline services and free up homes for families that really need them.

We're committed to clamping down hard on fraud and I would encourage all councils to pursue prosecutions so that they may act as a deterrent to others.
LGSS Managing Director John Kane said:
The securing of this funding will enable LGSS to extend its existing capability to provide counter fraud and investigative services on a multi-council basis.

This development is an exciting and innovative opportunity for LGSS to tackle fraud against public services.
Further information
Estimated losses to local government in the 2013 National Fraud Indicator was £2.1 billion, which was broken down as follows:
| Fraud type | Fraud loss |
| --- | --- |
| Housing tenancy fraud | £845 million |
| Procurement fraud | £876 million |
| Payroll fraud | £154 million |
| Council Tax fraud | £133 million |
| Blue Badge Scheme misuse | £46 million |
| Grant fraud | £35 million |
| Pension fraud | £7.1 million |
The government is investing some £35 million to help councils tackle fraud.
In April 2014, as part of the crackdown ministers announced £19 million to help councils fight against housing tenancy fraud.
In November 2014, a further £16 million was announced to support councils with innovative ideas on how to clamp down on other types of fraud.
A separate £600,000 will help provide strategic support for local authorities in tackling fraud. Of which Lord Ahmad recently announced £100,000 of funding to the network of counter fraud authorities (Fighting Fraud Locally) to develop a counter fraud strategy for local government. A further announcement on the remaining £500,000 will be made shortly.
The latest national statistics on fraud and error in the benefit system show that losses due to fraud and error in housing benefit are at a record high. Central and local government are working closely together to address these unacceptable losses and provide value for money for the taxpayer and further information will be announced in due course.
See a list of the successful bids for the Counter Fraud Fund.
Office address and general enquiries
2 Marsham Street
London
SW1P 4DF
Contact form http://forms.communiti...
General enquiries: please use this number if you are a member of the public 030 3444 0000
Published 10 December 2014