Press release
Long-term action plan to reduce flood risk in Cumbria
A new flood protection plan to protect Cumbrian communities for generations has been presented by Floods Minister Rory Stewart today (30 June).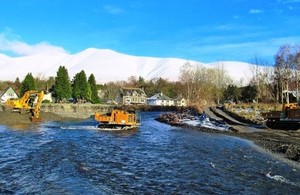 The Cumbria Flood Action Plan sets out the short-term actions that will see 4,300 homes in the region better protected, as well as the long-term actions that will see local organisations and communities working in partnership to develop better ways of managing rivers and the land.
The Government has already invested over £150m in Cumbria through repairs to infrastructure, direct payments to flooded households and business, removing debris and gravel and funding to match the tremendous generosity shown in charity appeals.
This plan shows how Government along with others will continue to boost Cumbria's resilience to flooding by:
Better protecting at least 4,300 Cumbrian homes from flooding using up to £72 million of government funding – this is £4m more than previously announced.
Restoring 350 hectares of peatland to hold water upstream for longer at several sites around the Eden, Derwent and Kent/Leven catchments.
Working with United Utilities to explore changing the way local reservoirs are managed to provide more storage during the winter.
Working with 4 small communities to agree how the way the land managed above the villages can be changed to reduce risk to residents, whilst also maintaining benefits for farmers and landowners.
Making sure that all future planning permission granted in Cumbria takes account of learnings from Storm Desmond.
Considering how we can reduce flood risk along the 3 catchments most severely impacted by Storm Desmond – the Eden, Derwent and Kent & Leven. Measures will include tree planting and restoring river bends as well as more traditional engineering solutions such as flood walls in towns.
The plan strikes a balance between our investments in flood defences and other Government investments in the environment, farming and water quality.
This is a significant part of the Government's new 25 year environment plan which will have a powerful and permanent impact - making Britain a safer, cleaner and greener place to live and work.
Floods Minister Rory Stewart said:
This plan is what Cumbria needs to help protect its businesses, people and infrastructure from flooding – now and over the longer term. This is largely thanks to the incredible spirit of the Cumbrian people, with local groups, local authorities, the Environment Agency and landowners all working with us to find the best answers for every area.

The government has committed up to £72 million to protect Cumbria from flooding and this plan uses local expertise to identify where that money will be best spent to benefit communities, by re-examining river systems from source to sea.
Environment Agency Flood Risk Manager Andy Brown said:
This action plan represents a step change in the way we manage flood risk in Cumbria. It sees local communities at the heart of the process, working with organisations to reduce flood risk along the length of Cumbrian river catchments, from the Fells to the coast.

The development of the long-term plan relies on continuing to work with the communities and farmers who live alongside these rivers and have experienced flooding at first hand. This is your opportunity to get involved and help make Cumbria more resilient to flooding.
Read the The Cumbria Flood Action Plan.
Published 30 June 2016
Last updated 30 June 2016
+ show all updates
More information from the Action Plan highlighted in release
First published.