London violence: "needless opportunistic theft"
The Deputy Prime Minister said the government stood side by side with the victims in "utterly condemning" the rioting and looting.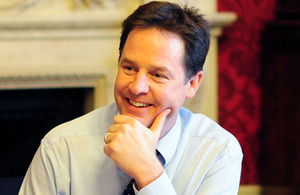 Mr Clegg also said the violence was nothing to do with the death of Mr Duggan in Tottenham last week.
It is completely unacceptable and the people who have suffered are those who have lost their businesses, shopkeepers who have lost their shops, families who have lost their homes and many people who felt very frightened in their own neighbourhoods.
Home Secretary Theresa May said that those responsible for violence will be made to face the consequences of their actions.
Later, the Deputy PM travelled to Tottenham to meet local residence and business owners with David Lammy MP to see first hand the devastation and "mindless destruction".
Mr Clegg said:
Earlier this afternoon I saw for myself the loss and devastation caused by mindless destruction in Tottenham.

But, more than anything - more than the smashed up buildings, the empty shops, the sight of so many police on the streets - I was struck by the determination of local people to stand together against the violence.

They won't allow their community to be torn apart by a minority of thieves and troublemakers and, right now, people across the capital, across the country, and the Government too, are standing shoulder to shoulder with the people of Tottenham as we begin to put right the damage that has been done.
Published 8 August 2011