Press release
London to pilot greater property owner leadership in high streets
London to be given powers giving property owners greater role in revitalising high streets.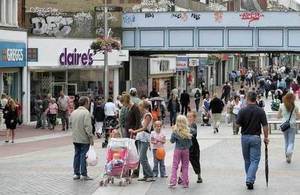 London is to be given powers which will give property owners a greater role in revitalising their high streets, High Streets Minister Brandon Lewis announced today (14 March 2013).
Landlords and property owners have a critical long-term interest in the success of the high street. Following a consultation, the government has confirmed that the role of landlords is crucial to the future success of town centres and that they should be part of a business improvement district where there is local agreement.
This move was supported by a range of London businesses, local authorities, and the business improvement districts industry including the Heart of London, and will pave the way for the role of property owners, to be formalised in business improvement district schemes. London can be given these powers due to the unique way it is funding Crossrail through a business rates supplement. Regulations which will enable property owner business improvement districts are due to come into force in October.
The minister also announced that Abingdon-on-Thames town centre and Sheffield city centre were the latest areas to be awarded loans from the business improvement district loan fund. They will receive £33,000 and £28,500 respectively to create high street business improvement districts.
In Abingdon-on-Thames, plans under consideration include market place events, free parking promotions, and collaborative purchasing plans to drive down costs. The Sheffield city centre business improvement district area is currently considering ways to support the daytime and early evening economies that celebrate Sheffield's unique character.
High Streets Minister Brandon Lewis said:
Community leadership that works together to revitalise their town centre work best and landlords are an important part of that jigsaw. Bringing property owners into business improvement districts means they can contribute to the plan and take into consideration a different perspective, including for unoccupied premises.

These changes are just one part of a £1 billion package of support measures this government has put in place to help communities reinvigorate their high street including help with business rates, planning rule changes to that support high street landlords, and ending parking charge rules that deter people from coming to town.
Sarah Porter, Chief Executive, Heart of London Business Alliance said:
We are delighted with the announcement and Heart of London Business Alliance are well positioned to establish one of the first property owner business improvement district's in central London. Our organisation was established in 2001 by property owners in the district and we have been operating ratepayer business improvement districts in the West End since 2005. A property focused business improvement district heralds a step change: it will enable owners to set their own agenda and influence and fund change for the benefit of the environment in which their assets sit.
The government is committed to supporting the business improvement district model for high street regeneration. Business improvement districts are a tried and tested town centre catalyst, used in towns and cities across the world. They bring local companies together to develop a vision for their area, pool funds and deliver projects to improve town centre safety, support local traders, establish parking initiatives and help to spruce up the high street.
Ratepayer funded business improvement districts have been around since 2004. The current rules only allow business occupiers to formally establish a business improvement district. Under the new scheme, landlords and property owners will now be able to formally establish business improvement districts, working together in a local area to involve more local people, increase funding and boost support for regeneration projects.
The inclusion of landlords and property owners has the potential to offer a shot in the arm to business improvement districts and high streets. While local businesses may be enthused and engaged about breathing new life into their town centres, in the past they may have seen their plans hampered by the lack of involvement of the building owners. Today's pilot means property owners will have a direct say and play an active part in regenerating their trading areas.
How do business improvement districts (BIDs) work?
Business improvement districts give local businesses the power to effect changes that will benefit them in their local community. Improvements include, but are not limited to, extra safety/security, cleansing and environmental measures. The legislation does not put a limit on what products or services can be provided through a business improvement district - save that it should be something that is in addition to services provided by local authorities.
Business improvement districts work by allowing businesses in a defined area to vote on any additional services they want to invest in, to improve their trading environment.
The business improvement district can run for a maximum period of 5 years - after which a renewal ballot would have to be sought. There is no limit to the number of renewal ballots - only that each time the maximum period can be for 5 years.
Local authorities are responsible for administration and manage the business improvement district levy via a ring-fenced business improvement district revenue account. They are responsible for passing the levy, after taking into account to the business improvement district company for use on the projects and services set out in the proposal.
The levy rate is set out in the proposal for a business improvement district is voted on. The majority of business improvement districts charge 1% of rateable value.
Further information
A business improvement district is set up as a private company, voluntary and business-led. The top 5 cities with business improvement districts are New York (50+), Toronto (40+), Los Angeles (30+), Vancouver (20+) and Philadelphia/Cape Town (10+).
The role of business improvement districts in rejuvenating high streets is being tested by some of the Portas Pilots such as Bedford, Loughborough, Bedminster and Lowestoft.
The legislative powers which would enable property owner business improvement districts to be established are contained within the Business Rate Supplements Act 2009 (referred to in the legislation as business rate supplement-business improvement district arrangements – see section 16 and Schedule 2 of the 2009 Act).
These provisions allow for property owner business improvement district arrangements to be made in areas where both a business rate supplement is imposed (or the conditions for imposing one have been met) and ratepayer business improvement district arrangements are made (currently, only London has a business rate supplement levy in place). Any property owner scheme must therefore:
be in the same geographical area as a business rate supplement and a ratepayer business improvement district
impose the levy only for periods falling within the period that both the business rate supplement and ratepayer business improvement district arrangements are in operation.
The government response to the consultation on property owners and business improvement districts has been published.
Office address and general enquiries
2 Marsham Street
London
SW1P 4DF
Contact form http://forms.communiti...
General enquiries: please use this number if you are a member of the public 030 3444 0000
Published 14 March 2014