London Poppy Day aims to raise £1m
His Royal Highness The Prince of Wales has been joined by some of London's most famous faces, including the Mayor of London and Barbara Windsor, to support the Royal British Legion's London Poppy Day appeal in a bid to raise a record-breaking £1m.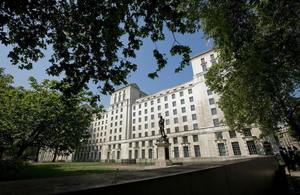 Activities were kicked off on 30 October when the Mayor of London, Boris Johnson, launched London Poppy Day by speeding down the Thames in a naval rigid inflatable boat to Canary Wharf.
There, the Mayor boarded patrol vessel HMS Severn to buy a poppy through a mobile card-payment terminal provided by Barclaycard, one of 400 that have been donated, making this the first London Poppy Day to go 'contactless'.
Today, 1 November, the Prince of Wales gave some royal encouragement to volunteers when they visited Clarence House aboard the London Poppy Day 1960s Routemaster bus.
Meanwhile, national treasure Barbara Windsor is the 'Voice' of London Poppy Day. Commuters will hear her special recording played in tube and railway stations encouraging people to dig deep for the Royal British Legion.
The fundraising efforts of more than 2,000 volunteers representing the Army, Navy and RAF, who are collecting at tube and railway stations across the capital, will also be spurred on by:
• a team of Royal Marines who are abseiling down Broadgate Tower
• activities throughout the day in Covent Garden's piazza, including a Spitfire with its wartime crew and musical entertainment - a totaliser in Covent Garden will display the latest amount raised
• seventeen military bands performing across the capital, including the HMS Collingwood Volunteer Band, the Honourable Artillery Company Quartet and the Grenadier Guards Band
• the chart-topping Military Wives Choir, who performed at Waterloo Station this morning, are performing on the steps of St Paul's Cathedral this lunchtime and will be performing in Covent Garden at 6pm, where they will be joined by the day's organisers, celebrities and the RAF Central Band for a final rush-hour fundraising push.
The money raised on London Poppy Day will go towards the 2012 Poppy Appeal fundraising target of £42m which will enable the Legion to carry out its vital work helping Armed Forces families.
The Royal British Legion spends £1.7m every week in direct welfare support, equivalent to £90m each year, answering more than 165,000 calls for help.
Charles Byrne, Director of Fundraising at the Royal British Legion, added:
At a time when pride in the capital has never been higher, London Poppy Day is a chance for Londoners to show their support and gratitude for those who serve. Every year we have more than doubled the amount raised on the day. In 2011 we hit £450,000 - and this year we're aiming to hit £1m.
Published 1 November 2012