News story
London International Shipping Week: propelling world trade
DfT is supporting London International Shipping Week, and will be involved in a number of the week's events.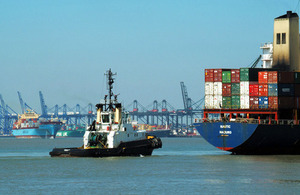 The Department for Transport, along with a number of other government departments, is supporting London International Shipping Week (LISW), from 9 to 13 September 2013.
London International Shipping Week (LISW) is an industry led event bringing the world of shipping together for 1 week. This inaugural event will focus on London's vital role in global shipping and promotion of the UK maritime sector (ports, shipping and London).
DfT are involved with a number of the week's events including co-hosting, with Maritime UK, a welcome reception at Lancaster House. This will bring together key members from both the UK and international maritime community as well as senior members of government. DfT will also welcome the international shipping community to a reception on board HMS Monmouth where they will get the chance to meet key contacts across government and discuss what is available to them through doing maritime business in the UK.
Please refer to the London International Shipping Week website for further details and a full list of the weeks events.
The UK has a proud maritime history and it is a sector that remains of key importance today, not only through shipping and ports but also the maritime professional and business services sector on which the industry relies. The City of London is rightly recognised around the world as a vital hub for these services.
Shipping is big business here in the UK – it is a sector already worth up to £14 billion per year to the economy and most importantly, and it is a sector that is steadily growing.
Our quality flag, attractive tonnage tax regime, strong competitive ports, expert maritime services and vibrant maritime training programmes, together with a stable regulatory framework, make the UK a great place to do maritime business.
The Greenwich Meridian literally makes London the centre of the shipping world – our central timezone means we can do business with both sides of the world in the same working day.
DfT is committed to working in close partnership with the maritime sector to ensure the industry continues to grow, and DfT supports the opportunities that London International Shipping Week provides to showcase all that the UK maritime sector has to offer.
Published 15 August 2013