World news story
London hosting 15 of Israel's most exciting and creative start-ups
Next week, London will host 15 of Israel's most exciting and creative start-ups as part of TeXchange Future Retail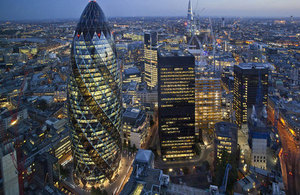 These 15 companies each won a place on this year's TeXchange programme – a unique UK-Israel technology exchange programme that creates an on-going two-way flow of digital tech pioneers, companies, ideas and technologies between the two countries. The programme is a joint initiative by the UK Israel Tech Hub at the British Embassy, the Economic and Trade Mission at the Embassy of Israel in London and the Israel Export Institute.
These companies will be taken into the heart of London's retail scene to meet with potential clients, customers, investors and industry experts. The programme will provide an opportunity for the Israeli companies to forge partnerships in the UK while opening up new avenues to the European market.
The four-day programme includes pitching sessions, pre-arranged one-to-one business meetings, introduction sessions to the UK's leading retailers, and participation in the Retail Week Live conference, where the TeXchange programme will host a panel discussion and networking session on "Israeli innovation: Bringing the Future to Retail."
Over the past few years, there has been a seismic shift in the retail industry with the boundaries between the virtual and physical retail spaces becoming blurred. As such, there is now huge potential for a revolution in consumer engagement.
On Tuesday 11 March, the Israel Future Retail Innovation Day will showcase how partnering Israel's advanced technology capacity with the UK's world-leading retail industry, will allow consumers to discover a whole new shopping experience.
Yoni Nevo, CEO Cimagine: "We are proud to have been chosen to participate in this important delegation connecting Israeli start-ups with leading retailers who welcome innovation. The UK is a key market for Cimagine's augmented commerce solutions and we hope to forge new ties and explore new projects by being part of this delegation."
For more information about TeXchange, please contact Sagi Or from the UK Israel Tech Hub: sagi@ukisraelhub.com.
Published 7 March 2014