World news story
London Fashion Week 2014 – Beyond a fashion event
This was published under the 2010 to 2015 Conservative and Liberal Democrat coalition government
Minh Giang Tu, the winner of Aquafina Pure Fashion 2013 will represent Vietnam at London Fashion Week 2014.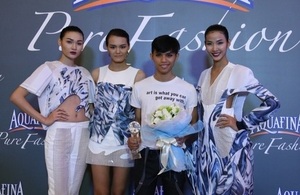 The fashion world knows very well that London Fashion Week is one of the 4 biggest fashion events including those in New York, Milan and Paris. But to the UK, this event is beyond that. It is not only a cultural exchange event but also a contribution to strengthening the friendship between the UK and other countries.
This year London Fashion Week will take place from 14 to 18 February. One of its highlight events is the International Fashion Showcase to be held from 13 – 23 February 2014. The International Fashion Showcase is a joint initiative of the British Council and the British Fashion Council to introduce the works of emerging international fashion designers. In the past two years, 40 countries and more than 200 fashion designers took part in this prestigious and inspiring event. This year, Nguyen Minh Giang Tu, the winner of Aquafina Pure Fashion 2013 will represent Vietnam. His presentation will be supported by Cong Tri – the first Vietnamese designer attended the International Fashion Showcase in 2013.
At London Fashion Week 2014, Giang Tu will introduce to the world and its fashion fans a collection called "The Dreamers". True to its name, the collection was inspired by the images of dreamers who can only see things in black and white. And when they wake up, their dreams will be colourful. In other words, the youth's lives will become true when their purpose of life is identified. Giang Tu's collection promises to bring about overwhelming impression on Vietnam's developing fashion industry.
Document information
Published: 22 January 2014