News story
London deal paves way to transform health care across the capital
Agreement signed at Great Ormond Street Hospital today will begin with five devolution pilots across London.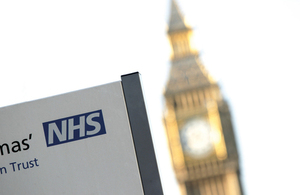 Ground-breaking plans that will set in motion the radical transformation of health and social care services across London were revealed today (Tuesday 15 December 2015) by Chancellor of the Exchequer George Osborne and Health Secretary Jeremy Hunt.
Outlining the first steps towards reshaping healthcare across London, the Chancellor signed a health devolution agreement with the capital's health and civic leaders which will allow it to begin the process of taking control of its own affairs.
The agreement, signed today at Great Ormond Street Hospital, will begin with five devolution pilots to be launched across London focused on different topics:
Haringey will run a prevention pilot exploring the use of flexibilities in existing planning and licensing powers to develop new approaches to public health issues
Barking & Dagenham, Havering and Redbridge will run a pilot to develop an Accountable Care Organisation, where primary and secondary care are more closely integrated and patient pathways are redesigned with a focus on intervening early and managing the chronically ill
North Central London (Barnet, Camden, Enfield, Haringey, Islington) will run an estates pilot to test new approaches to collaboration on asset use
Lewisham will run a pilot seeking to integrate physical and mental health services alongside social care
Hackney will run a health and social care integration pilot, aiming for full integration of health and social care budgets and joint provision of services. This will also have a particular focus on prevention
The Chancellor and Health Secretary Jeremy Hunt signed the agreement with "London Partners" including all of London's Clinical Commissioning Groups (CCGs), local authorities (LAs), the Greater London Authority and national bodies including NHS England, Health Education England, NHS Improvement and Public Health England.
Chancellor of the Exchequer George Osborne said:
Today's agreement is another crucial step in our devolution revolution and is the start of us handing over valuable healthcare power to local leaders in London.
This deal means that not only will the people of London have more control over decisions that affect their lives, it will also lead to better, more joined up health care in the capital for Londoners.
The agreement's intention is to pilot new ways of working across London's large and complex health economy with the longer term aim for further devolution of London's healthcare out of Whitehall and into the hands of local leaders. The agreement aims to radically reshape healthcare provision across the city, in line with the aspirations of the NHS Five Year Forward View while addressing inequalities in health outcomes.
As part of the overall agreement London Partners have agreed to look at the vast NHS estate in London and increase incentives for trusts to make better use of property. It has also committed to looking at how flexibilities in existing planning and licensing powers could contribute to public health goals and will be given input on government decisions about relief funding for struggling healthcare providers in London.
While on the visit, the Chancellor and Health Secretary announced a new £800 million boost to biomedical research through the National Institute for Health Research (NIHR). The new funding, which will be provided over five years from April 2017 when the competition has concluded, will be allocated across the full spectrum of health research including dementia, genomics, cardiovascular, asthma, cancer, nutrition and obesity.
It follows a similar scheme launched by the Prime Minister in 2011, which saw institutions including Great Ormond Street benefit. The Great Ormond Street Hospital NIHR Biomedical Research Centre is currently the only one of its kind specialising in paediatrics.
Health Secretary Jeremy Hunt said:
There is a huge amount of good practice and innovation in London health and care services – this exciting new deal will help improve services even further for Londoners.
The pilot areas we have announced today will be trailblazers as we move towards a fully integrated health and care service by 2020.
By empowering more places in the capital to make the best decisions for themselves we will improve patient experience, and help keep people well for longer.
Mayor of London Boris Johnson said:
As we've shown through transport, policing and planning, devolution is already working in London and this agreement paves the way for a revolution in how health and social care are delivered across the capital.
With our city's population continuing to grow, it is essential that we have a health service better equipped to manage its own resources so that it can become even more responsive to the needs of Londoners.
Simon Stevens, NHS England Chief Executive said:
In London's NHS we've got some of the best health services anywhere on the planet - but also some of the most pressurised.
London is the world's most dynamic and diverse city – Why shouldn't it be the healthiest?
Today the NHS and London local government commit to testing better prevention for our children's health, to new ways of joining up care for older people, and to shared action to free up unused buildings and land to reinvest in the modern primary care that our fast growing city clearly needs.
Mayor Jules Pipe, Chair of London Councils says:
This agreement promises to be the beginning of a real partnership between all public services concerned with the health of Londoners.
It marks the culmination of much hard work between the boroughs, local clinicians in the CCGs, the NHS, Public Health England and the GLA.
Through greater integration of our services we intend to deliver better outcomes for Londoners to support them in living healthier, independent lives.
This agreement provides a strong joint framework for us to deliver that agenda together.
Duncan Selbie, Chief Executive of Public Health England, said:
There is a clear vision for how Londoners can lead long, healthy and fulfilling lives and this agreement will accelerate the pace of change in London's boroughs.
Where we live is often the biggest determinant of our health and devolution offers a new opportunity to embed prevention at the core of everything we do so that we close gaps in life expectancy and years lived in good health between those with the most and the least in our society.
This is a chance for local health leadership to shape the physical environment to encourage healthy decisions, and break the cycle of inequality, poor health and unemployment.
Published 15 December 2015