London Conference on Libya
The UK is hosting the London Conference on Libya today, to discuss the latest situation and next steps regarding the events in the country with our allies and partners.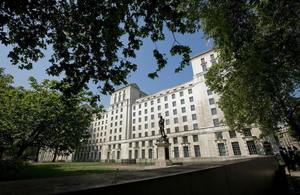 More than 40 foreign ministers and representatives from key regional organisations are in attendance. These include United Nations Secretary General Ban Ki-moon, the Chairperson of the African Union Commission Dr Jean Ping, the Secretary General of the Organization of the Islamic Conference Professor Ekmeleddin Ihsanoglu, the Prime Minister of Qatar, foreign ministers from key regional countries including Iraq, Jordan, the United Arab Emirates and Morocco, the US Secretary of State Hillary Clinton, and foreign ministers from across Europe and NATO members, along with NATO Secretary General Anders Fogh Rasmussen.
The Arab League, Lebanon and Tunisia are also represented.
The London Conference is being chaired by the UK Foreign Secretary William Hague, and was opened by the UK Prime Minister David Cameron.
The London Conference sets out to strengthen and broaden the international community's commitment to implementing United Nations Security Council Resolutions 1970 and 1973, ensuring that Libyan civilians are protected from violence.
The conference also seeks to reaffirm the importance of urgent humanitarian assistance to Libya, in particular to alleviate the suffering in Misurata and on Libya's borders given the disruption of essential supplies such as water, food and medical provisions.
It calls for a political process which will help create the conditions in which the people of Libya can choose their own future, supported by the international community.
For full details of the conference see the Foreign and Commonwealth Office's website at Related Links.
Speaking to the media today, UK Defence Secretary Dr Liam Fox said:
What we want to see coming out of the conference today is that we get a strengthening and a broadening of the coalition because, ultimately, this will be about rebuilding Libya and that will require us to have partners in the region, and the more of the Arab world that we involve in the planning for this the better.

We also want to see plans for any necessary humanitarian assistance coming out of this conference and a longer-term political view of the future for Libya post-Gaddafi.
A joint letter from Prime Minister David Cameron and French President Nicolas Sarkozy published ahead of the London Conference on Libya can be found at Related Links.
Published 29 March 2011