London Conference on Libya
Foreign Office coverage of the London Conference on Libya, including photos and statements.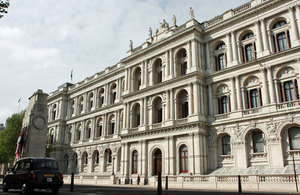 More than 40 Foreign Ministers and representatives from key regional organisations attended. These included the United Nations Secretary General Ban Ki Moon, OIC Secretary General Dr Ekmeleddin Ihsanoglu, the Prime Minister of Qatar, Foreign Ministers from key regional countries including Iraq, Jordan, UAE, and Morocco, Secretary Clinton, and Foreign Ministers from across Europe and NATO members, along with Secretary General Rasmussen. The Arab League, Lebanon and Tunisia were also represented.
Full coverage:
Tuesday 29 March
Monday 28 March
Published 29 March 2011