World news story
London 2012: sustaining the legacy
Minister and Deputy Head of Mission at British Embassy Tokyo, Dr. David Ellis, gave a speech on how the UK used the 2012 Paralympics to transform social attitudes towards disability in the UK at a symposium hosted by Tokyo Metropolitan Governor Yuriko Koike.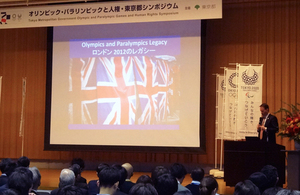 Tokyo Governor Yuriko Koike hosted a Tokyo Symposium on the Olympic and Paralympics Games and Human Rights to raise awareness of human rights and promote diversity through the Tokyo 2020 Olympic and Paralympic Games. Dr. Ellis spoke at the event, and said Tokyo 2020 is a once in a generation opportunity not just for Tokyo but the whole of Japan to showcase Japan's culture and society. He confirmed that the UK is already sharing its experience of hosting London2012 as Tokyo prepares for its Games.
London2012 aimed to deliver two big changes. One was to create a world class sporting tournament featuring disabled athletes. The other and most important was to change public attitudes towards disability and increase social inclusion. Dr Ellis emphasised that the Paralympic is the games of the possible and that the UK wanted to transform how British society viewed and treated its disabled citizens. He described how the UK's strategy, educational and cultural programmes and volunteer effort contributed to this, and the lasting change they made.
Dr. Ellis said:
The London Paralympics were a huge success. All 2.4 million tickets were sold. The British Team won a record 120 medals. But most importantly, surveys showed nearly 70 % adults believed the games had positively shaped their views of disabled people. This was a real transformative moment for UK society.
London 2012 helped transform public attitudes towards disability in the UK and left a positive legacy. But there is a more to do. Tokyo 2020 is another milestone on that journey toward equality and diversity. UK will work with Japan on that journey and contribute to the success of Tokyo Games.
Watch the video below to see the summary of the Symposium.
The Tokyo Metropolitan Government Olympic and Paralympic Games and Human Rights Symposium
Published 5 April 2017