Press release
London 2012: Sustainable procurement for construction guide developed
London 2012′s ambition to be the "greenest Games of modern times" was aided by a commitment to sustainable procurement.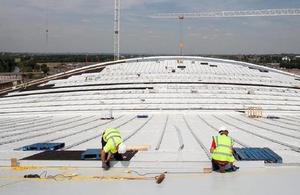 The cyclists at the Velodrome may have broken records, but great gains were also taking place off the track. A resource-efficient approach to construction of the Velodrome led to £1.5m savings from the cable-net roof design alone, requiring about 1,000 tonnes less steel and embodied carbon savings of over 27%.
To ensure the lessons learnt from the Games can be applied to new projects, Defra has developed a Sustainable Procurement for Construction Projects guide. This guide pulls together the key lessons on procuring sustainable buildings and infrastructure, and contains key case studies about the Velodrome and low carbon concrete. It also includes links to other material about sustainable procurement at London 2012.
The guide shows the principles that help deliver efficiency, combined with longer term social, environmental and economic benefits in practice, and explains the practical tools that can be used to achieve these objectives.
Lord de Mauley, Resource Management Minister, said:
Sustainable procurement helps ensure value for money and lower operational costs whilst protecting the environment and bringing us wider societal benefits. London 2012 showed how this could be done practically and efficiently.
I am keen that the lessons learned are captured and taken on board by others. This guide is being published to help give procurers of large and small construction projects the benefits of this learning".
This guide is welcomed by Shaun McCarthy, the former Chair of the independent assurance body for London 2012, as well as Lord Coe in his role as the Prime Minister's Legacy Ambassador for the Olympic and Paralympic Games.
Shaun McCarthy OBE said:
In my role as Chair of the Commission for a Sustainable London 2012, I have called on Government to take action to embed best practice from the Olympic Delivery Authority (ODA) into mainstream procurement. I am very pleased to see Defra taking the initiative to provide some insight and guidance for Government departments based on the exemplary practice of the ODA. I look forward to seeing this advice flow down into the supply chain.
Sebastian Coe CH, KBE said:
In our bid to host the Olympic and Paralympic Games in London, we pledged to hold the greenest Games of modern times and I am pleased to say we were hugely successful in doing this. This was because London 2012 built sustainability into everything we did from procurement to the operation of the sites. It's really important that we share what we did so that others are able to learn from our experience. This guide pulls together the key lessons on procuring sustainable buildings and infrastructure so that others can learn from the example of the Games and ensure the legacy continues.
Lord Coe visits Weymouth and Portland today to see some of the sustainability successes from the Games.
Published 18 July 2013