London 2012 Olympics brings trade opportunities for the UK and Sweden
British Ambassador to Sweden Andrew Mitchell opened the "Golden Decade of Sports in the UK" event in Stockholm to promote tourism, trade and investment in the UK.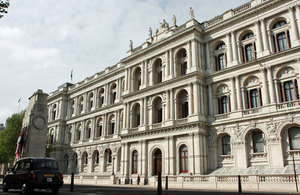 UK Trade & Investment and Visit Britain co-hosted the sports business seminar, bringing together key business people from Britain, Sweden and as far afield as the Gold Coast in Australia to promote trade, investment and tourism in the UK. The day was both entertaining and productive, with around 800 delegates attending. The event in Stockholm coincided with a Diamond League athletics meet drawing together world class athletes from Britain and around the world.
British Ambassador to Sweden Andrew Mitchell formally opened the event and interviewed Chris Holmes, the multi-gold medal and world record-breaking British swimmer. Speaking about the business opportunities the London 2012 Olympics provide, Andrew Mitchell said:
"The Games represent an opportunity - for the UK, for sportsmen and women and for business. And Britain is indeed open for business. This is the core message from the new British Government to business around the world. And we think we have a lot to offer."
Chris Holmes spoke about his role as Director of Paralympic Integration on the London 2012 Organising Committee and the excitement and opportunities the games are bringing not only to Britain but to the whole world.
Chris Holmes on integrating the Olympic and Paralympic Games in London 2012
Discussing Britain's approach to access to sport for people with disabilities, Chris Holmes said:
"It's been interesting seeing the journey that Great Britain has been on over the last 20 years really, in terms of the opportunities that are available for disabled people both in sport and across life… We are firmly focused on putting on the best Paralympic Games ever hosted but what's important is to ensure that it's truly everyone's Paralympics and that's not just everyone in London or everyone in the UK but everyone across the world. Everyone can have a part to play in the greatest sporting show on earth in the Olympic Games and the Paralympic Games which will be taking place in the summer of 2012 in London."
The positive atmosphere at the "Golden Decade of Sports in the UK" event is evidence of the increasing international interest in the UK as London 2012 Olympics and Paralympic Games approach. It's time for everyone to start planning their summer of 2012. How would you like to be involved in the 2012 Games?
Published 9 August 2010