Logistics soldiers deploy to Afghanistan
Personnel from 1 Logistic Support Regiment (1LSR) have begun their deployment to Afghanistan after completing a final series of last minute preparations and checks.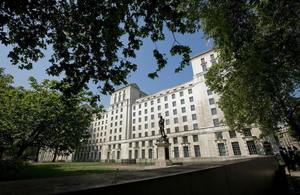 During the six-month deployment, 420 members of the Regiment will be spread out across Helmand Province in support Germany based 20th Armoured Brigade (the Iron Fist), providing transport and communications expertise. They will also be working closely with the Afghan National Army to help prepare them to take over the security of their own country.
Among the deploying soldiers is Private Mark Lamb, who is a member of the Territorial Army and spent four months training with 1LSR at their barracks in Gutersloh North Germany before joining them for their deployment.
The construction site manager, who had a short stint with the Royal Marines in 1983, joined the TA in 2008 at the age of 45 after a harbouring a life long desire to rekindle his work with the military.
He was accepted into the TA at his age due to his experience in the construction industry which meant that he already held the specialist driving licences he would need in his role in Afghanistan.
Speaking before his deployment he said:
They don't normally let you join after 43, but as I had the right specialist experience they made an exception. Being here in Germany and getting used to the vehicles I will be driving in Afghanistan has been a fantastic experience.
Pte Lamb's role will include transporting vital supplies, equipment and fuel, driving in convoys of sometimes more than twenty vehicles for days at a time to Forward Operating Bases and other British military positions in the heart of Helmand, and he will need to be constantly ready to deal with enemy threats.
The convoys could involve off-road cross country driving and all personnel will need to be wary of a variety of patrol hazards, from driving at night with no lights and as quietly as possible to avoid giving their position away, to how to handle approaches from people who may or may not be enemy insurgents.
Map reading and effective and accurate radio communications are also essential on the long journeys which might include hours waiting in sweltering temperatures or getting bogged down in torrential rain.
Pte Lamb added that he doesn't mind being a 48-year-old private soldier working closely with younger soldiers and officers who often out rank him. He said:
I keep up with a lot of the younger guys in the physical skills, and it is actually good mingling with all of them. When I first volunteered they asked me if I could take orders from someone younger than me, I have no problems with that, it's part of the job.
I of course get a bit of good natured banter which is great; we all are able to have a laugh. They are all now used to me and I get a lot of respect because of my age.
The Logistics soldiers have completed over a year of training for their mission which started with a major exercise on the plains of Canada last year and has since included a range of courses including a stint at the World Class Combined Arms Tactical Trainer in Sennelager in Northern Germany.
The facility is one of only two in the British Army which houses nearly two hundred simulators providing realistic training on a variety of British Army vehicle platforms which represents what conditions are like on the ground in Afghanistan including road conditions, terrain, villages, locals and other vehicles in the convoy.
1LSR's training package concluded with a mission specific exercise in the UK designed to confirm their readiness to deploy.
Commanding Officer 1LSR, Lieutenant Colonel Matt Whiley, said:
Our training has been of excellent quality. The soldiers have worked incredibly hard and attained an excellent standard. They are now all itching to get on with the mission and to support the UK's mission in Helmand.
160 members will stay behind as part of the rear operations group with 90 of them trained and ready for possible deployment if needed.
The Rear Operations Group will continue to sustain 20th Armoured Brigade back in Germany and to support the welfare of the families of deployed personnel.
We have a handpicked welfare team already doing a superb job and well resourced to support the Regiment and its families during the tour.
Published 26 September 2011