Press release
Local woman collects keys to new car after online win
A woman from Bures has won a brand new car worth over £10,000 after renewing her vehicle tax online.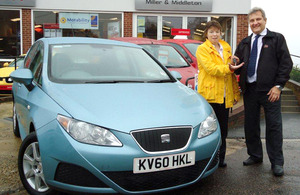 A woman from Bures is celebrating after winning an eco-friendly car worth over £10,000 in a DVLA Prize Draw.
Alternative Medicine student, Tracey Thornton, aged 46 won the SEAT Ibiza Ecomotive 1.4 TDI car by using the DVLA Electronic Vehicle Licensing service to tax her car.
Mrs Thornton, who was presented with her car at the Miller & Middleton SEAT dealership in Colchester on 5 October said:
This came as a lovely surprise. The Heavens must have been looking down at me the day I taxed my car, I ticked the box to enter the prize draw but never thought I would win!
She added:
I spend quite a lot of time driving my teenage sons around so having an eco-friendly car will be perfect.
Using the online or telephone services to tax or SORN vehicles only takes four minutes and you don't need to find your MOT or insurance documents as the DVLA automatically check them for you.
The online and telephone services are available 24 hours a day, 7 days a week.
To renew vehicle tax or SORN quickly and easily go online or phone 0300 123 4321 or EVL Minicom 0300 790 6201.
Notes to editors
SEAT has provided the cars at no cost to DVLA or the taxpayer.
The SEAT Ibiza Ecomotive was chosen for the prize draw because it met DVLA's criteria (cars provided free of charge for a monthly prize draw, NCAP Safety Standards, low emissions, car tax bands A or B).
The prize draw initiative is part of a marketing strategy, to encourage motorist to use DVLA's Electronic Vehicle Licensing system, which has won both National and European Business Awards.
Press office
DVLA Press Office
Longview Road
Morriston
Swansea
SA6 7JL
Email press.office@dvla.gsi.gov.uk
Telephone (only for use by journalists and the media): 0300 123 0791
Telephone (out of office hours – only for use by journalists and the media): 0300 123 2407
Published 6 October 2010