News story
Local growth on agenda for annual LEP conference
Business Secretary Vince Cable, Transport Secretary Justine Greening, Secretary of State for Communities and Local Government Eric Pickles and…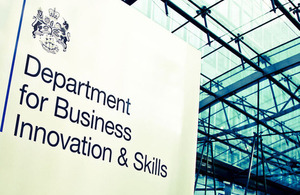 Business Secretary Vince Cable, Transport Secretary Justine Greening, Secretary of State for Communities and Local Government Eric Pickles and Business and Enterprise Minister Mark Prisk are all taking part in the annual conference which brings together leaders from across the LEP network.
The are now 39 LEPs in England, covering every business in the country and bringing business and civic leaders together to drive sustainable, private sector growth in their communities.
Business Secretary Vince Cable said:
"Right across England, LEPs are key institutions working to drive growth in their local economies.
"A key feature of LEPs is that they are private sector led, and involve people who really understand the area in which they live and work.
"All LEPs are new but all are now operating and are developing a clear and defined strategy, and identifying local priorities they want to tackle."
Business and Enterprise Minister Mark Prisk said:
"LEPs are vital for promoting local growth. Thousands of business and civic leaders have set their priorities in their local economies and the Government is keen to help.
"It's still early days, but this conference will enable LEPs and ministers across government to better understand what needs to happen next."
The Department for Business, Innovation and Skills (BIS) and Business Link have also worked with a number of LEPs who are looking to enhance the business support sections of their websites. LEPs have been able to syndicate content from Business Link, as a free and effective way of adding depth and authority to their online business information, rather than needing to invest in their own business support tools, information and guidance.
The LEP annual conference 2012 is taking place at Royal Mint Court in London, and will feature speeches and panel sessions involving a number of LEP chairs from across the country, as well as government ministers.
To hear about more the work being done by LEPs, please visit the BIS website, which lists full contact details for individual LEPs: http://www.bis.gov.uk/policies/economic-development/leps/lep-contact-details
Notes to editors:
BIS's online newsroom contains the latest press notices, speeches, as well as video and images for download. It also features an up to date list of BIS press office contacts. See [http://www.bis.gov.uk/newsroom](http://www.bis.gov.uk/newsroom) for more information.

This year the Government is running the Business in You campaign to encourage more people to start or grow their business throughout 2012 using a range of existing support services. More information is available at businessinyou.bis.gov.uk.
Notes to Editors
Contact Information
Name BIS Press Office Job Title
Division Department for Business, Innovation & Skills Phone
Fax
Mobile
Email bispress.releases@bis.gsi.gov.uk
Name James Platt Job Title
Division Department for Business, Innovation and Skills Phone 020 7215 5978 Fax
Mobile
Email james.platt@bis.gov.uk
Published 26 April 2012